Market volatility is back with a vengeance. And until it calms down, which right now it's in no mood to do, volatility is likely going to increase.
The triple-digit moves in the Dow Jones Industrial Average we're seeing almost daily are telling.
They're telling us that markets are nervous, very nervous. The constant jumping out with both feet and jumping back in with both feet is indicative of nervousness. Investors are jumping out because they don't want to get caught in a correction, and they're jumping back in because they don't want to miss the next leg up.
However, things aren't exactly what they seem to be. The jumping in and out isn't being done by individual investors - it just looks that way. And that itself is even more telling, but of something completely different.
Here's the truth about the new volatility. First of all, it's part of the system now. Second, volatility will always increase when markets head south or when nervousness pervades.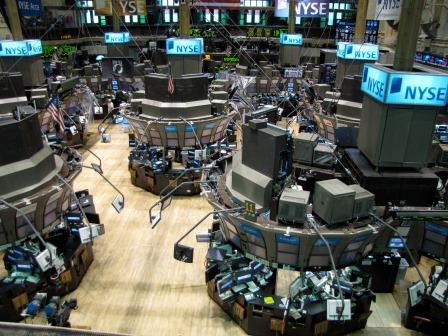 Market volatility has many meanings, and how you slice it and dice it or measure it is another conversation, and a long and complicated one. But there's a simple understanding of volatility that you absolutely must grasp and not let go of. All other means of describing volatility are part and parcel to the essence of the new volatility.
The "new volatility," which I'm coining here and now, refers to the big moves (with "big" always being relative) that stocks make. Stocks come first. There is no "market" without individual stocks.
Stocks all have a bid and ask. In normal times, there are investors and traders bidding for (wanting to own) shares at prices they want to buy them at. And there are offers, prices that investors and traders want to sell shares or short-sell shares at. The difference between a bid and an offer, meaning the two prices, is called the spread.
Whenever there is nervousness, especially when a stock, stocks, or the market is going down, spreads "widen."
The reason spreads widen is straightforward.
Join the conversation. Click here to jump to comments…
About the Author
Shah Gilani boasts a financial pedigree unlike any other. He ran his first hedge fund in 1982 from his seat on the floor of the Chicago Board of Options Exchange. When options on the Standard & Poor's 100 began trading on March 11, 1983, Shah worked in "the pit" as a market maker.
The work he did laid the foundation for what would later become the VIX - to this day one of the most widely used indicators worldwide. After leaving Chicago to run the futures and options division of the British banking giant Lloyd's TSB, Shah moved up to Roosevelt & Cross Inc., an old-line New York boutique firm. There he originated and ran a packaged fixed-income trading desk, and established that company's "listed" and OTC trading desks.
Shah founded a second hedge fund in 1999, which he ran until 2003.
Shah's vast network of contacts includes the biggest players on Wall Street and in international finance. These contacts give him the real story - when others only get what the investment banks want them to see.
Today, as editor of Hyperdrive Portfolio, Shah presents his legion of subscribers with massive profit opportunities that result from paradigm shifts in the way we work, play, and live.
Shah is a frequent guest on CNBC, Forbes, and MarketWatch, and you can catch him every week on Fox Business's Varney & Co.