A new cybersecurity ETF debuted last week that gives investors a fresh way to profit from the need to protect U.S. businesses from cyberattacks and data breaches.
The PureFunds ISE Cyber Security ETF began trading Wednesday on the New York Stock Exchange under the apt ticker "HACK."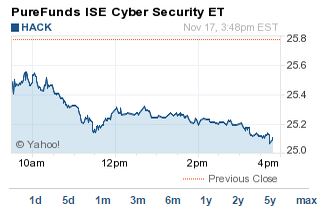 HACK tracks the ISE Cyber Security Index, a benchmark compiled of 30 companies focused on protection from cybercrimes.
Key names in the index include giants like Cisco Systems Inc. (Nasdaq: CSCO), Juniper Networks Inc. (NYSE: JNPR), Palo Alto Networks Inc. (NYSE: PANW), FireEye Inc. (Nasdaq: FEYE), and Symantec Corp. (Nasdaq: SYMC).
Lesser known members include VASCO Data Security International Inc. (Nasdaq: VDSI), Imperva Inc. (NYSE: IMPV), Infoblox Inc. (NYSE: BLOX), and Splunk Inc. (Nasdaq: SPLK).
HACK's top 10 holdings are (in order) VASCO, Imperva, Qualys Inc. (Nasdaq: QLYS), Palo Alto, Splunk, Infoblox, Radware Ltd. (Nasdaq: RDWR), Symantec, Proofpoint Inc. (Nasdaq: PFPT), and Science Applications International Inc. (NYSE: SAIC). The fund's annual expense ratio is 0.75%.
Christian Magoon, founder of YieldShares and a consultant to ISE ETF Ventures, said the ETF gives investors a way to play the growing space.
"What our analysts were able to do is actually look at companies and their underlying businesses and determine what kind of material efforts they have that are geared towards cybersecurity software, hardware, and services and then use that data intelligence to create the index of the 30 companies," Magoon told CNBC.
Magoon expects the cybersecurity ETF will attract long-term investors, as well as short-term speculators looking to play event-driven news in the space.
"It's [cybersecurity] an essential spend now in every IT budget, whether for the government, a corporation," or the everyday investor, Magoon told Reuters. He added that HACK is the only product "tailored to give investors exposure in this thriving industry."
Companies across all industries are substantially boosting cybersecurity budgets. Recent cyberattack victims vowing to do and shell out more to protect data include The Home Depot Inc. (NYSE: HD), JP Morgan Chase & Co. (NYSE: JPM), P.F. Chang's China Bistro (Nasdaq: PFCB), and, most recently, the U.S. Postal Service.
Here's why companies will continue to pour more and more money into cybersecurity efforts...
The Growing Cybersecurity Market
Data breaches are becoming bigger and more common. Cyberattacks exposed 800 million records last year. This year's tally is expected to surpass that figure. The JP Morgan hack alone affected 83 million records.
A $60 billion industry in 2013, the cybersecurity market will reach $95.60 billion this year and $155.74 billion by 2019, according to global market research and consulting company MarketsandMarkets.
That amounts to a hefty compounded annual growth rate of 10.3% over the next five years.
Driving market growth are rapid adoptions of cloud-based services, explosive growth in wireless communications along with strict government mandates, and an increasing number of cybercrimes in public utilities and other crucial infrastructure industries.
[epom key="ddec3ef33420ef7c9964a4695c349764" redirect="" sourceid="" imported="false"]
The current highly competitive landscape of the cybersecurity market is only expected to intensify. Leading players now and in the future will be companies that address the demands of providing security across all cyber domains by expanding their capabilities via strategic acquisitions.
New players continue to enter the arena as others are gobbled up. Venture capitalists and private equity poured more than $1.7 billion into the booming cybersecurity market in 2013. The trend looks to continue.
Don't Miss Today's Top Story: Stocks are headed higher through year end for many reasons, but one in particular is telling. It's simple, yet too many people have overlooked it. And that's a big mistake. You see, if you understand this one compelling reason, you can pick some winners - and pocket big profits - yourself.
Related Articles: