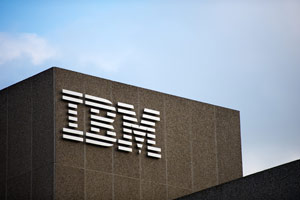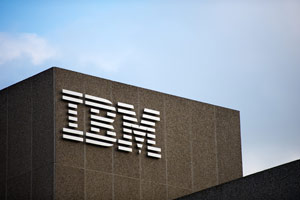 International Business Machines Corp. (NYSE: IBM) stock looks to be in trouble.
IBM is down about 2% on the month and is trading at just about $160. That means IBM has lost almost 15% in 2014.
IBM's 50-day moving average has dipped below its 200-day average - signs of a more entrenched downdraft - and has been trading there for two weeks.
The current problems with IBM run deep. They have been brewing for a long time and there still isn't a clear verdict on whether IBM's Chief Executive Officer Virginia "Ginni" Rometty is actually turning the company around.
The most recent quarter was the tenth in a row for Big Blue where sales were either flat or down from the quarter a year ago.
"IBM can't escape the fact that nearly every part of its business has disappointed so far this year, causing some wags to dub it Big Black and Blue," said Money Morning Defense and Tech Specialist Michael Robinson.
But Robinson isn't so quick to use the "Big Black and Blue" moniker used by other analysts.
While Robinson said it will take a while to see if Rometty is successful in orchestrating this turnaround, there are signs she's made some good moves already. IBM sold off its low-end server business to its Chinese partner, Lenovo Group Ltd. (OTCMKTS ADR: LNVGY) earlier in the year, and sold a money-losing chip business off last month.
But the real key to IBM's rebound success comes from one of the most important developments facing the tech industry today...
What's Holding Back IBM Stock
First, here's what IBM has been doing wrong.
One of critics' biggest problems with IBM is its Global Services business - mainly IT and technology consulting services for businesses and the government. It's IBM's most lucrative segment and accounted for 61% of total revenue last quarter.
Critics say IBM is cannibalizing this segment. It's shedding U.S. workers and outsourcing jobs to call centers in India, overcomplicating the services in its largest cash cow segment and diminishing the customer experience with IBM. This was examined in-depth in The Decline and Fall of IBM: End of an American Icon? by Robert X. Cringely (a pseudonym for tech blogger Mark Stephens).
In the book, Cringely explains that global services rose to prominence in the early 1990s with the hiring of former CEO Louis Gerstner.
Gerstner looked to abandon the business segments in IBM that were fighting a losing battle against industry leaders like Microsoft Corp. (Nasdaq: MSFT) and Intel Corp. (Nasdaq: INTC), and instead looked to grow out its IT services business. This was all done as IBM was on the brink of collapse.
To Gerstner's credit, IBM survived. However, its failure to keep up with its peers in developing new technologies, coupled with the shuffling of its workforce, has caused the current conundrum for Big Blue.
That's why IBM is now begging for a turnaround from Rometty, who stepped in as CEO in 2012.
Robinson said right now IBM is "still too dependent on hardware sales and that's not a good place to be in this market." With a 14% third-quarter year-over-year drop in revenue for the "systems and technology division," which includes hardware sales, that marks the twelfth straight quarter of decline in that segment.
Rometty has tried a renewed focus on software and services, but that has yet to help the bottom line.
But here's where IBM shows the most promise ...