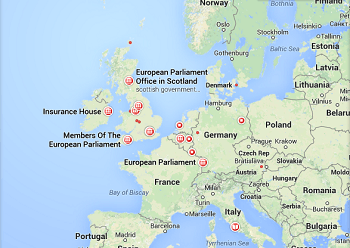 The European Parliament will decide Thursday whether to force Google Inc. (Nasdaq: GOOG, GOOGL) to separate its search engine from its other commercial services.
Google's search service currently makes up 90% of all Web searches in Europe.
But while a pro-breakup vote may shrink the company's influence, it's actually a good thing for Google stock.
"For investors, I think this is an awesome development," Money Morning Chief Investment Strategist Keith Fitz-Gerald said Tuesday.
Fitz-Gerald - a seasoned market analyst with 33 years of experience - has long followed the potential antitrust issue Google faces in both European and American markets. In a May 20 appearance on FOX Business' "Varney & Co.," he spoke about the beneficial effect a corporate breakup would have on GOOG stock.
"I have maintained for several years that this course of action was likely. I don't think it's unexpected - and I think American regulators will ultimately follow along."
Here's a closer look at exactly what is going down in Thursday's European Parliament vote on GOOG...
Key Elements of Parliament's Google Vote
A draft motion calls for the "unbundling" of Google's search engine to rein in the Internet giant's dominance.
"It's a monopoly. It's killing our technology businesses," parliament member and draft co-author Ramon Tremosa said. His proposal complains that Google search results are ranked based on what's best for Google - not the user. It demands an end to "Google's illegal and discriminatory treatment."
While parliament lacks the power to break up corporations, a passed resolution would up pressure on the European Commission - the executive body of the EU - to act against Google.
Competitors filed antitrust claims against GOOG back in 2010, and they've yet to be resolved.
"This development is really interesting because it speaks to two things," Fitz-Gerald said. "One, the growing perception that America dominates the world's Internet. And two, the decades-old phobia that America dominates all industries. That's coming into play here - this move isn't necessarily about Google, as much as it's about European tech firms figuring out how to compete in this space."
The parliament will begin discussions today (Wednesday). Unbundling is not the only option on the table. Another option makes a change to Google's ranking algorithms. Another is to adopt legal measures that prevent anticompetitive behavior when it comes to search.
Google has not issued a statement on the vote.
Regardless of what happens Thursday, here's why Google stock investors should be "extremely excited about this development"...