Biotech stocks to buy in 2015: Biotech was one of the most profitable sectors this year. Through Dec. 18, the S&P 500 Biotechnology Index is up 43.6% in 2014, and the Nasdaq Biotechnology Index is up 36.9%.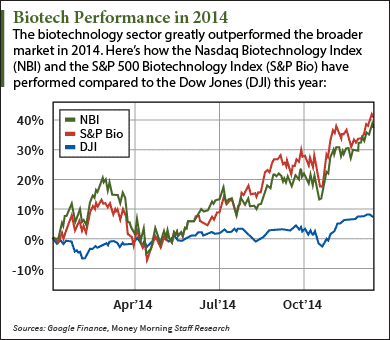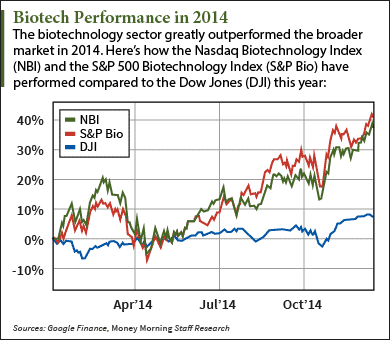 Those gains are three to six times as big as the broader markets'. In 2014 through Dec. 18, the Dow Jones Industrial Average is up just 6.1%, the S&P 500 10.3%, and the Nasdaq 12.8%.
Another indicator of the sector's strength was the number of IPOs in 2014. So far, 262 companies have held initial public offerings in 2014. Healthcare was the most popular sector, with 100 IPOs. That more than doubled the next closest industry - technology - with just 49.
And the health companies that came to market rewarded early investors. Those 100 IPOs raised a total of $8.7 billion and averaged a first-day gain of 13.6%. Overall, they've averaged a 25.3% gain from their offer prices.
Adding to this strong performance is that the biotech market was able to overcome a sharp sell-off in 2014. From late February to mid-April, the Nasdaq Biotech Index dropped 20.8%.
During this plunge, Money Morning's Biotech Investing Specialist Ernie Tremblay urged investors not to flee the market. It was a healthy correction - prior to that dip, the index had climbed 241% since the start of 2012.
And when Wall Street feared a bubble was imminent in July, Tremblay once again set the record straight.
"The market breathes in, and the market breathes out," Tremblay said. "After huge gains over the past three years, an adjustment should come as no surprise to anyone. But that's all it was. There's no bursting bubble."
Like he predicted, instead of a bubble bursting, the index climbed 20% through the rest of the year.
And the industry shows no signs of slowing down. In fact, there are several major catalysts that will drive biotech stocks in 2015.
Biotech Companies' Monster Sales Opportunity in 2015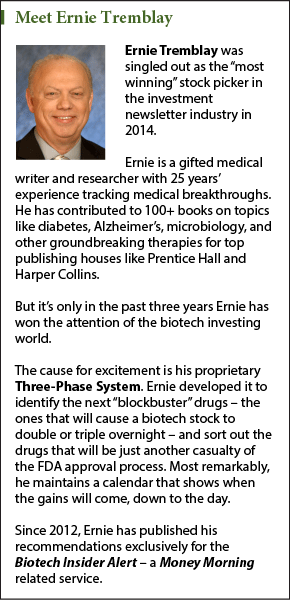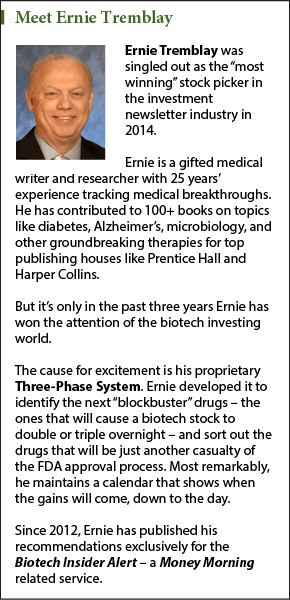 First, an Evaluate Pharma report indicates that brand-name prescription drug sales will grow globally at a rate of nearly 4% per year between now and 2018.
Another major catalyst is America's aging population.
According to the U.S. Administration on Aging, by 2030, the elderly population in this country will have doubled its size from the year 2000. And those people will be living longer, as average life expectancy continues to increase.
That presents huge opportunities for all types of biotech companies, including those that deal with ophthalmology, pain management, neurological/psychiatric drugs, cancer, and diseases of old age.
Market corrections are always a possibility - especially in biotech, which is one of the more volatile sectors. That's why the most important thing for investors in 2015 is finding companies with real value. Biotech companies that make good drugs that meet critical needs will be the sector's best profit opportunities.
With that major profit potential in mind, here are the best biotech stocks to buy in 2015 according to Money Morning experts...
Three Biotech Stocks to Buy in 2015