Strong leaders can turn good companies into great investments. That's why we've picked the three best CEOs to invest in now.
"Great companies have great operations and great operations usually aren't possible without a truly great CEO," Money Morning's Defense & Tech Specialist Michael A. Robinson said.
"There's a reason we're focusing on CEOs - and not patents, sales figures, price/earnings (P/E) ratios, or market share," he continued. "It really starts at the top."
The following CEOs have all led their companies to major milestones during their tenures. They are the main reasons why their companies are among today's best investments.
Here's a look at three of the best CEOs at work today...
Best CEOs to Invest in No. 1: Jack Ma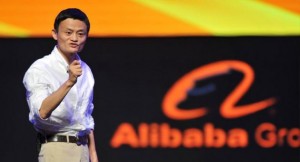 First, we know that technically Founder and Chairman Jack Ma retired in 2013 as the CEO of Alibaba Group Holding Ltd. (NYSE: BABA). But for all intents and purposes, he remains the head of Alibaba. And he tops our "Best CEO" list after an extremely successful 2014.
On Sept. 19, Ma brought his e-commerce company Alibaba to the New York Stock Exchange through a $25 billion initial public offering. It was the largest IPO in history.
BABA stock climbed as high as $120 per share in November. That's a gain of 76.5% from its offer price of $68 per share. Today, BABA shares opened at $105.95 - a 55.8% return in just three months.
And now that the company is public, Ma has his sights set on expansion in 2015. Alibaba spent upwards of $6 billion on acquisitions in the year before its IPO. Ma plans to continue the spending, with a focus on American tech firms.
"We've invested a lot in this space and we're going to invest more," Ma said earlier this year. "I got my inspirations from Silicon Valley... it's our time to come here and invest in Silicon Valley."
Ma's ambitious goals for the company depend on that American expansion.
"We want to be bigger than Wal-Mart," Ma said following the IPO. "We hope in 15 years people say this is a company like Microsoft, IBM, Wal-Mart; they changed, shaped the world."
According to Money Morning's Executive Editor Bill Patalon, there are a number of reasons to invest in Alibaba stock in 2015. One of the biggest reasons is Ma himself.
"Jack Ma impresses me," Patalon said. "He's on a mission to form a global company. You're going to start seeing more purchases across different industries and it's going to look like a puzzle with all the companies he's adding.
"Alibaba stock isn't just a stock to buy for 2015," he continued. "This is a great investment for years to come."
Not a Money Morning Member? Sign up right now for free and find out how to invest in the best leaders on the market today...
Best CEOs to Invest in No. 2: Tim Cook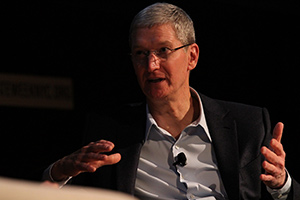 Apple Inc. (Nasdaq: AAPL) CEO Tim Cook replaced the legendary Steve Jobs on Aug. 24, 2011. During his first year on the job, AAPL stock climbed an impressive 82%.
But the second year was less kind to AAPL. From August 2012 through August 2013, Apple stock dipped nearly 23%.
"A chorus of critics suggested that Apple had lost its way under new CEO Tim Cook," Robinson said. "They said that without the late legendary Steve Jobs at the helm, Apple was destined to flounder."
"But many ignored the fact that Cook had a distinguished career in the computer industry before Jobs recruited him in 1998. And Jobs had a lot of faith in Cook. Wall Street has awoken to the fact that Cook is a shrewd CEO who knows how to keep the Silicon Valley giant on the cutting edge of high tech while still racking up great profit margins."
In 2014, AAPL stock climbed 41.6%. Robinson sees the stock climbing another 26% to $142.85 per share by Labor Day 2016.
One of Cook's biggest successes in 2014 has been the launch of the newest iPhone.
"The iPhone's success was a big part of the company's great earnings report when the fourth fiscal quarter ended this past September," Robinson said. "The company sold 39 million iPhones in the quarter and beat earnings forecasts by more than 8% with earnings per share at $1.43.
"Apple has multiple revenue streams, it's receiving a lot of bullish investor and analyst attention, and it's treating its shareholders like royalty - a trifecta of share-price boosters."
Best CEOs to Invest in No. 3: Elon Musk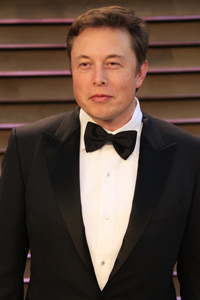 Not only is he the CEO of Tesla Motors Inc. (Nasdaq: TSLA), Elon Musk is also the founder of SpaceX and PayPal and chairman of the board at SolarCity (Nasdaq: SCTY).
SolarCity has grown into a $5.5 billion company since its founding in 2006. The stock hit the market in 2010 and has already climbed more than 380%.
After founding SpaceX in 2002 with $100 million of his own money, he received a $1.6 billion NASA contract less than six years later.
But it's Tesla that made Musk a household name. Since the stock debuted in 2010, TSLA has climbed 1,076%.
"You hardly ever see this recognized in the mainstream media, but Tesla has one irreplaceable asset that also happens to be its greatest advantage over its competitors," Money Morning's Chief Investment Strategist Keith Fitz-Gerald said. "The company has been blessed with the most innovative CEO on the planet: Elon Musk.
The electric-vehicle company is on pace to deliver 33,000 vehicles in 2014, by far its largest yearly total. And now the company is developing the Tesla Gigafactory, a lithium-ion battery plant that will revolutionize battery production. In fact, when the Gigafactory reaches maximum output by 2020, it will power more lithium-ion batteries annually than were produced globally in 2013.
TSLA stock is very volatile. It can move wildly on the smallest news story. That makes it an unreliable short-term investment. But for aggressive investors looking for long-term plays, TSLA is an interesting stock. Musk is one of the biggest reasons why.
[epom key="ddec3ef33420ef7c9964a4695c349764" redirect="" sourceid="" imported="false"]
"Creativity as a thinker who can't be boxed in by entrenched competitors, the ability to cheerfully put tens of millions of his own money behind his vision when necessary, a solid grasp of what technology means for the industry he operates in... all of these are great qualities in a CEO," said Fitz-Gerald. "Any company, big or small, is lucky to have a chief executive with just two of them. Tesla has all three in Elon Musk."
The Year's Most Hated: Not every company found the success of these three CEOs in 2014. In fact, some were burdened with dreadful customer service, sexist CEOs, and concealed safety issues. Here's the complete list of the most hated companies in 2014...