The key to investing in the pharmaceutical stocks is research: you've got to know when, how, and if the company you like will profit.
You see, pharmaceutical stocks soar when their companies receive FDA approval or other positive news. If you prepare you can reap the gains - sometimes triple-digit profits in just months.
For a look at how big pharma stocks' gains can be, here's a list of six that outperformed most of the sector in 2014. Check out the catalysts that propelled these stocks higher...
The 6 Pharmaceutical Stocks That Outperformed the Rest in 2014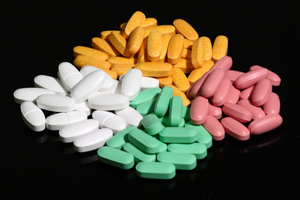 Regeneron Pharmaceuticals Inc (Nasdaq: REGN) - This Tarrytown, New York-based biotechnology company is a leader in human antibody technologies, and has developed a number of antibody drug candidates. REGN, alongside Sanofi U.S. (NYSE ADR: SNY), has recently collaborated with a number of international heart disease organizations to develop Cholesterol Counts, a program focused on raising cholesterol awareness in the United States.
With heart disease being the leading cause of death in the United States, the program has the potential to impact the lives of millions of Americans. REGN experienced 51% gains in 2014, starting the year at $271.75 and closing at $410.25.
Valeant Pharmaceuticals International Inc. (NYSE: VRX) - Valeant Pharmaceuticals is a multinational specialty pharmaceutical company based out of Montreal, Canada. The company specializes in neurology, dermatology, and infectious diseases, with a number of drugs currently in late-stage clinical trials. Valeant boasts a portfolio of over 500 products from its previous focus on specialty chemical and radiochemical research.
Valeant has managed to grow exponentially since its inception in 1960 through a series of mergers and acquisitions, which has long been an important part of the company's growth strategy. It is currently the 17th-largest public company in Canada. VRX experienced 22% gains in 2014, starting at $117.16, and closing at $143.11.
Alexion Pharmaceuticals Inc. (Nasdaq: ALXN) - Headquartered in Cheshire, Conn., Alexion Pharmaceuticals coined Soliris, a drug that's used to treat atypical hemolytic uremic syndrome. Soliris is the company's only marketed drug used to combat this rare medical condition. The drug was granted "orphan drug designation" by Japan's Ministry of Health, Labour, and Welfare (MHLW) in December 2014. ALXN experienced 39% gains in 2014, going from $133.34 to $185.03.
Money Morning readers, continue reading for the inside scoop on a prestigious pharmaceutical company that yields gains from its innovative cancer drug therapies...