The December jobs report released today (Friday) by the U.S. Department of Labor highlights what's missing in the job market's recovery: wage growth.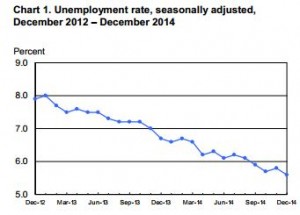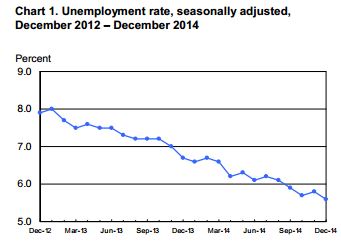 According to the report, the United States added 252,000 jobs last month, ahead of consensus estimates of 240,000.
That was enough to push the unemployment rate down to 5.6%.
But those numbers were not enough to distract from the bigger story of falling wages.
Average hourly earnings for all employees on private nonfarm payrolls in December decreased by $0.05 to $24.57. That slippage more than halved November's hourly wage gain of $0.09.
Sign up for SMS so you never miss special events, exclusive offers, and weekly bonus trades.
Hourly earnings of private sector production and nonsupervisory employees slipped by $0.06 to $20.68.
Year over year, average hourly earnings have risen a meager 1.7%. That's below the paltry 2% pace that prevailed throughout the overall job market recovery. It's also well below the 3% rate economists say is healthy.
Also troubling in Friday's jobs report was the uptick in individuals leaving the workforce. Some 300,000 people dropped out of the workforce last month.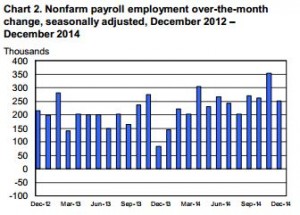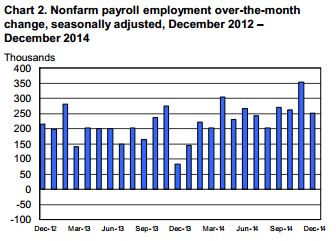 That exodus pushed December's labor participation rate – the percentage of the civilian population who participated in the labor force by either having a job or actively seeking one – to 62.7%. That's a drop of 0.2% from November and the lowest rate since February 1978. The labor participation rate has remained stuck in an unhealthy range of 62.7% to 62.9% since April.
In addition, a record 92,898,000 Americans did not participate in the labor force in December. That's 456,000 more than the 92,442,000 Americans who didn't partake in November.
But the wages story is the most troubling…
Stagnant Wages Threaten Economic Growth
Steve Pressman, professor of finance and economics at Monmouth University in West Long Branch, N.J., spoke to Money Morning to explain why the wage growth issue is so concerning.