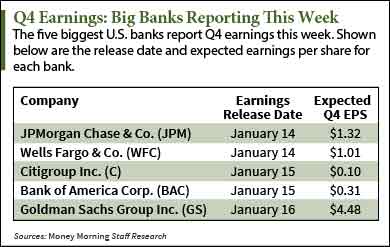 The JPMorgan Chase & Co. (NYSE: JPM) stock price faltered more than 4% on this morning on an earnings miss - but this looks like just the start of the firm's troubles...
Fourth-quarter revenue was $23.552 billion vs. estimates of $23.64 billion.
Similarly, JPM's $1.19 earnings-per-share fell short of a $1.32 estimate.
Revenue was down 2.3% from last year's fourth quarter, when the bank's sales were $24.112 billion. EPS was also down - 8.5% from last year's $1.30 EPS.
The reason for the miss? JPMorgan was hit hard by legal fees. The bank, along with several other big banks across the globe, had to cough up just over $1 billion.
Most of that stems from a November settlement tied to shady activity in the foreign exchange market. Between 2008 and 2013, JPMorgan bankers engaged in private chatroom discussions with bankers across the globe, according to regulator claims. In these chatrooms they allegedly worked to manipulate key foreign exchange rate benchmarks. They coordinated strategies with these bankers and disclosed confidential customer orders and rate spreads.
JPM was slammed with the following fines:
$350 million from the U.S. Treasury's Office of the Comptroller of the Currency
$310 million from the U.S. Commodity Futures Trading Commission
£222.2 million ($140.8 million) from the U.K. Financial Conduct Authority
Other banks penalized included: Citigroup Inc. (NYSE: C), Bank of America Corp. (NYSE: BAC), HSBC Holdings Plc. (NYSE ADR: HSBC), The Royal Bank of Scotland Group Plc. (NYSE: RBS), and UBS AG (NYSE: UBS).
But legal fees are nothing new.
JPMorgan is facing much bigger problems than the routine settlements...
The Biggest Concerns Facing Banks Like JPM
This $1 billion seems small. At least compared to some of 2014's huge bank settlements.
And the Department of Justice's major cash cow - blockbuster settlements tied to abusive lending practices in the mortgage business - have, for the most part, been pursued as far as they can be.
When Bank of America parted with almost $17 billon in penalties last year, it and other big banks also parted with the days of such huge fines.
"My sense of the legal settlements issue is that they are starting to wane," Clifford Rossi, Professor of the Practice and Executive-in-Residence at the University of Maryland's Robert H. Smith School of Business told Money Morning in October. "The big ticket government settlements are, I think, coming to an end."
These legal fees did hobble JPMorgan this quarter. But this is business as usual. Regulation is a much larger concern for banks.
JPMorgan Chairman and Chief Executive Officer Jamie Dimon sounded off on this today (Wednesday).
"Banks are under assault," he said of bank regulation, according to The New York Times "Dealbook" blog.
While the 2008 financial crisis did prove that banking regulation is sorely needed, the feds may have gone beyond what is needed.
"I think banking is going to continue to be held back because of excessive regulatory burden," Rossi said. "Just layering in all these regulations at one time make it almost impossible for any institution to comply with all these rules and do this in a way that does not hold them back."
But JPMorgan has another problem...