Pharmaceutical stocks plummet in share price for a number of reasons: FDA rejection, disappointing clinical trial results, lawsuits... it's a risky sector all around. You could invest your savings in one small biotech company and gain epic rewards when their drug wins FDA approval, or you could invest your savings and lose everything when FDA approval is denied.
We still love investing in biotech and pharma companies - we just do the proper research first. Last month we gave investors a list of stocks to buy, and how to pick the winners. And just today, our biotech expert Ernie Tremblay alerted investors to three profitable pharma stocks that stand between us and the "bacterial apocalypse."
Now we want to look at five pharmaceutical stocks that performed poorly in 2014, and still don't seem headed in the right direction...
5 Pharmaceutical Stocks That Performed Poorly Last Year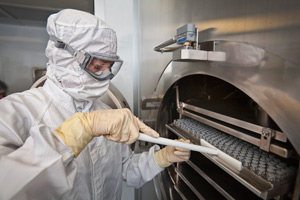 Revance Therapeutics Inc. (Nasdaq: RVNC) - Revance Therapeutics is a biopharmaceutical company headquartered in Newark, Calif. The company is focused on developing botulinum toxin products for all sorts of cosmetic and medical needs across the globe. In particular, Revance is focused on developing RT001, a topical gel that contains botulinum toxin type A to treat crow's feet wrinkles around the eyes.
On Dec. 12, shares of RVNC were downgraded by analysts to a neutral rating with a price target of $18.90 set. Shares of RVNC experienced a loss of -39.5% in 2014, going from $28.00 to $16.94.
Lexicon Pharmaceuticals Inc. (Nasdaq: LXRX) - This company is focused on developing innovative treatments for various diseases, and is headquartered in The Woodlands, Texas. Originally named Lexicon Genetics Inc., the company used its patented mouse gene technology and in vivo screening capabilities to study approximately 5,000 genes. In all, the company has identified more than 100 potential drug targets.
Despite Lexicon's multiple drug candidates that have been in clinical trials, the stock didn't generate too much long trading interest in 2014. In November alone, shorting of LXRX was up 39.8%, and continued to climb in December another 9.4%. Shares of LXRX experienced a total loss of -50.54% in 2014, going from $1.84 to $0.91.
What do you know about short selling? Money Morning Members can check out our Absolute Beginner's Guide to Short Selling