Former interim CEO of Yahoo! Inc. (Nasdaq: YHOO) Ross Levinsohn thinks so. He floated the idea Wednesday on CNBC's "Fast Money: Halftime Report."
"If I was back at Yahoo I would have hopped on a plane, gotten into a Brink's truck and driven it to his studio and said, 'Whatever you want,'" Levinsohn said. "You can build an entire business around this man."
Now, this may be the ramblings of just another Jon Stewart fanboy. But it's also a fanboy who just happened to be the former CEO of a struggling quasi-media entity.
And it could easily just be written off as another tribute. Stewart's retirement announcement this week brought with it a deluge of post-mortems and wild speculation.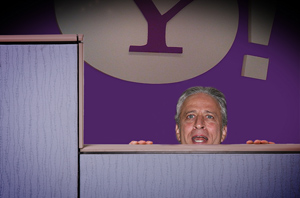 But that doesn't mean it's a ridiculous idea. It may perhaps be the least wild of all the wild speculation. Some have even suggested he take the seat vacated by shamed "NBC Nightly News" host Brian Williams.
It could only help Yahoo stock at this point. The struggling online directory and communications platform needs to find a profitable core business strategy – and soon. The clock is ticking, and once it sells off its stake in Alibaba Group Holding Ltd. (NYSE: BABA), there will be little reason for shareholders to stay with the company.
Levinsohn's media-centric strategy didn't impress the Yahoo board in 2012 when they considered him for the CEO job. His desire was for Yahoo to compete with Time Warner Inc. (NYSE: TWX) as a media giant. He wanted to abandon the futile battle with Google Inc. (Nasdaq: GOOG, GOOGL) as a seller of ads against digital content, in a struggle where Yahoo isn't the only underdog.
That's why they hired current CEO Marissa Mayer.
Mayer is more product-focused. To her, the fight against Google and Facebook Inc. (Nasdaq: FB) is not yet lost.
But Mayer's lofty – and what will ultimately be fruitless – aspirations don't diminish the value a personality like Stewart could bring to Yahoo.
And there's every reason to think that if Mayer can snatch him up, she will.
She may have been chosen as CEO for her analytic-driven, digital-product approach, but she is receptive to the media side of Yahoo's business. Even if she doesn't attack it with the same zeal as Levinsohn did.
And should she succeed, here's what that would do for YHOO…
What Jon Stewart Could Mean for Yahoo
It's first important to mention that Stewart wouldn't be the first personality acquisition Yahoo went after.
After longtime television anchor and journalist Katie Couric departed from ABC News in 2013, Mayer snatched her up and made her Yahoo's Global News Anchor. The idea was to sell ads against an online video news program hosted by Couric.
According to Nicholas Carlson's book, Marissa Mayer and the Fight to Save Yahoo!, Yahoo was once interested in Gwyneth Paltrow. Mayer didn't follow through, though. According to reports, she wasn't impressed by Paltrow's lack of a college education.
Levinsohn laid out just how a Stewart franchise would work.