After more than two decades of teases, virtual reality (VR) is about to go mainstream.
And I mean soon.
That's because several leading companies in the tech sector are planning to launch consumer head-mounted displays in the fall – or soon thereafter.
This newest version of VR – the one that video gamers will be lining up for at Best Buy – is way more advanced than the not-ready-for-prime-time version we saw in the 1990s and early 2000s. This version will immediately provide totally immersive play for gamers, and will soon be applicable to other consumer areas, like for movie watching and as a next-generation social-media platform.
You've likely heard of the Oculus Rift VR headset from Facebook Inc. (Nasdaq: FB), and maybe the Gear headset from Samsung Electronics Co. Ltd. (OTCMKTS: SSNLF).
But there's another tech leader out there with a VR system that's ready to go – and I believe the CEO's commitment to the VR program's success underscores why his company's stock remains a great long-term buy
Consumer VR is a field that could expand to at least $5.2 billion – some 58-fold – by 2018.
Let's see how we can grab some of that extreme growth – below Wall Street's radar…
The New Reality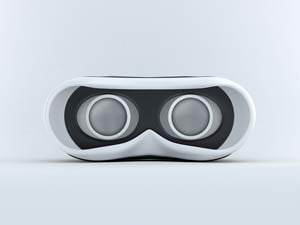 Clearly, there's a lot riding on Project HoloLens, the glitzy, feature-packed VR headset from Microsoft Corp. (Nasdaq: MSFT).
Readers often ask me why I'm so bullish on Microsoft CEO Satya Nadella.
Actually, the answer is pretty easy.
It's because he's able to identify innovations like VR, make them part of the emerging Microsoft "ecosystem" and then ramp up profits with them.
Many investors still think of the world's largest software firm as one rooted in PCs and business software.
But this is no longer the Microsoft of Bill Gates and Steve Ballmer.
Instead, Nadella is using Microsoft piles of cash – $92 billion – to move the Redmond, Wash.-based company into technologies, like VR, that are both cutting-edge and poised for hypergrowth.
There's a lot to admire about Project HoloLens. Nadella has told colleagues and the media he believes VR is the next big phase in consumer technology.
And I agree. VR headsets and software – now that the technology meets consumer demands – fit right in with our video games, social networks, and mobile devices.
Also known as an "augmented reality" device, Project HoloLens contains an onboard camera and a computer hooked up to 18 sensors that transmit a tidal wave of data every second.
Running on the Windows 10 operating system, Project HoloLens has more computing power than a laptop. It operates without wires, and the headset responds to voice, gaze, and gestures.
More to the point, it can focus a hologram into a room. A hologram is a 3D image created by a photographic projection.
In fact, HoloLens is powerful enough to simulate physical places like the surface of Mars, which is why NASA teamed up with MSFT for one incredible cause…
Join the conversation. Click here to jump to comments…
About the Author
Michael A. Robinson is one of the top financial analysts working today. His book "Overdrawn: The Bailout of American Savings" was a prescient look at the anatomy of the nation's S&L crisis, long before the word "bailout" became part of our daily lexicon. He's a Pulitzer Prize-nominated writer and reporter, lauded by the Columbia Journalism Review for his aggressive style. His 30-year track record as a leading tech analyst has garnered him rave reviews, too. Today he is the editor of the monthly tech investing newsletter Nova-X Report as well as Radical Technology Profits, where he covers truly radical technologies – ones that have the power to sweep across the globe and change the very fabric of our lives – and profit opportunities they give rise to. He also explores "what's next" in the tech investing world at Strategic Tech Investor.