Although I speak with Money Map Press Editorial Director Bill Patalon almost every day, it's been some time since we actually engaged in a full-fledged question-and-answer session for your benefit.
In today's conversation, Bill asks me about my outlook for tech stocks and helps me outline a risk-management strategy every investor should follow (especially now). And together we highlight the half-dozen tech stocks that will point you down the road to meaningful wealth.
Bill Patalon (Q): Michael, the Nasdaq Composite Index recently eclipsed the 5,000 level for the first time since the dot-com bust-up of 2000. And that brought the gloom-and-doomer crowd out of the woodwork in droves.
But you have an interesting take on this. You've said that – while volatility will likely increase in the near term for all stocks – you are more confident than ever for the longer term investment outlook of Silicon Valley and high technology.
Michael Robinson (A): That's right. In all the years I've been around Silicon Valley, I've never seen so much innovation reaching a point of critical mass all at the same time. A recent research report I read said that, on average, we're seeing roughly $1 billion worth of new tech opportunities coming out per week.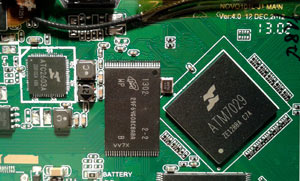 We are well beyond what I call the "Tech Tipping Point." Bear in mind that, back during the whole dot-com saga of 2000, most folks had dial-up Internet. Now we have broadband that is at least 100 times faster. Which gives us Netflix Inc. (Nasdaq: NFLX), Pandora Media Inc. (NYSE: P) and such Apple Inc. (Nasdaq: AAPL) services as iTunes and Apple TV.
There were no smartphones, no tablets and no connected car. Amazon.com Inc. (Nasdaq: AMZN) was just selling books. There was no such thing as cloud computing. And e-commerce was hardly the threat to brick-and-mortar stores that it is now.
Despite these differences, the stock prices we're seeing for technology firms today remain quite reasonable…
Join the conversation. Click here to jump to comments…
About the Author
Michael A. Robinson is one of the top financial analysts working today. His book "Overdrawn: The Bailout of American Savings" was a prescient look at the anatomy of the nation's S&L crisis, long before the word "bailout" became part of our daily lexicon. He's a Pulitzer Prize-nominated writer and reporter, lauded by the Columbia Journalism Review for his aggressive style. His 30-year track record as a leading tech analyst has garnered him rave reviews, too. Today he is the editor of the monthly tech investing newsletter Nova-X Report as well as Radical Technology Profits, where he covers truly radical technologies – ones that have the power to sweep across the globe and change the very fabric of our lives – and profit opportunities they give rise to. He also explores "what's next" in the tech investing world at Strategic Tech Investor.