Although I speak with Money Map Press Editorial Director Bill Patalon almost every day, it's been some time since we actually engaged in a full-fledged question-and-answer session for your benefit.
In today's conversation, Bill asks me about my outlook for tech stocks and helps me outline a risk-management strategy every investor should follow (especially now). And together we highlight the half-dozen tech stocks that will point you down the road to meaningful wealth.
Bill Patalon (Q): Michael, the Nasdaq Composite Index recently eclipsed the 5,000 level for the first time since the dot-com bust-up of 2000. And that brought the gloom-and-doomer crowd out of the woodwork in droves.
But you have an interesting take on this. You've said that – while volatility will likely increase in the near term for all stocks – you are more confident than ever for the longer term investment outlook of Silicon Valley and high technology.
Michael Robinson (A): That's right. In all the years I've been around Silicon Valley, I've never seen so much innovation reaching a point of critical mass all at the same time. A recent research report I read said that, on average, we're seeing roughly $1 billion worth of new tech opportunities coming out per week.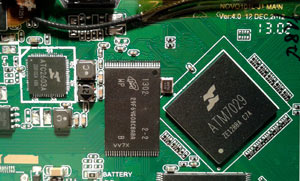 We are well beyond what I call the "Tech Tipping Point." Bear in mind that, back during the whole dot-com saga of 2000, most folks had dial-up Internet. Now we have broadband that is at least 100 times faster. Which gives us Netflix Inc. (Nasdaq: NFLX), Pandora Media Inc. (NYSE: P) and such Apple Inc. (Nasdaq: AAPL) services as iTunes and Apple TV.
There were no smartphones, no tablets and no connected car. Amazon.com Inc. (Nasdaq: AMZN) was just selling books. There was no such thing as cloud computing. And e-commerce was hardly the threat to brick-and-mortar stores that it is now.
Despite these differences, the stock prices we're seeing for technology firms today remain quite reasonable…
Join the conversation. Click here to jump to comments…
About the Author
Michael A. Robinson is a 35-year Silicon Valley veteran and one of the top technology financial analysts working today. He regularly delivers winning trade recommendations to the Members of his monthly tech investing newsletter, Nova-X Report, and small-cap tech service, Radical Technology Profits. In the past two years alone, his subscribers have seen over 100 double- and triple-digit gains from his recommendations.
As a consultant, senior adviser, and board member for Silicon Valley venture capital firms, Michael enjoys privileged access to pioneering CEOs and high-profile industry insiders. In fact, he was one of five people involved in early meetings for the $160 billion "cloud" computing phenomenon. And he was there as Lee Iacocca and Roger Smith, the CEOs of Chrysler and GM, led the robotics revolution that saved the U.S. automotive industry.
In addition to being a regular guest and panelist on CNBC and Fox Business Network, Michael is also a Pulitzer Prize-nominated writer and reporter. His first book, "Overdrawn: The Bailout of American Savings" warned people about the coming financial collapse - years before "bailout" became a household word.
You can follow Michael's tech insight and product updates for free with his Strategic Tech Investor newsletter.