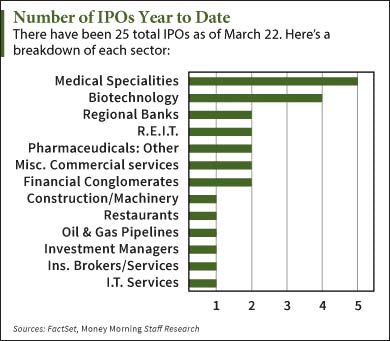 There are nine upcoming IPOs in the last full week of the first quarter. They're expected to raise a combined $627 million.
The biggest IPO to watch this week is Cellectis SA (Nasdaq: CLLS). Cellectis is a gene-editing company developing cancer immunotherapies based on T cells, which play a central role in disease immunity.
The French company was founded in 2000 and has publicly traded in Paris since 2007. It hopes to raise $129 million by offering 3.5 million American Depository Shares (ADSs) – shares of a foreign company on a U.S. exchange that are unaffected by currency conversions. It has gained 187% so far this year on Paris' Euronext Market. CLLS is valued at $1.2 billion and will begin trading in the United States on Thursday, March 26.
Cancer immunotherapy companies have been on a tear lately. Kite Pharma Inc. (Nasdaq: KITE) has soared 148% since its June 2014 IPO. Since going public in December, Juno Therapeutics Inc. (Nasdaq: JUNO) is up 75.8%. Bellicum Pharmaceuticals Inc. (Nasdaq: BLCM) priced above its $15 to $17 range at $19 and has gained 32.6% since its December debut.
Here's a look at the rest of the upcoming IPOs on this week's IPO calendar…
This Week's Eight Other Upcoming IPOs
SolarEdge Technologies Inc. (Nasdaq: SEDG) provides inverter panel systems geared toward increasing energy output from solar power. The Israel-based company sells its products to solar installers, construction firms, and large distributors. SolarEdge enters a growing market for replacing traditional energy inverters and has contracts with big commercial sellers, including SolarCity Corp. (Nasdaq: SCTY) and Vivint Solar Inc. (NYSE: VSLR). The company plans to raise $119 million by offering 7 million shares at a price range of $16 to $18. It has a $733 million valuation and will hit the market on Thursday, March 26.
Money Morning Members: Continue reading for seven more upcoming IPOs this week. For those new to Money Morning, sign up to keep reading – it's completely free…