We've spent a lot of time talking about how to identify great companies with huge upside potential. No doubt you've got the 3-step Total Wealth process down by now: 1) identify the trend, 2) pick your trade, and 3) control your risk.
So today I want to shift gears and talk about the one metric you can use to identify seemingly pristine companies that are ripe for a fall – which can be great stocks to short.
Our timing couldn't be better. Janet Yellen has just taken off the blinders and the markets charged higher… at a time when corporate profit growth is about to go negative for the first time since the Financial Crisis began and QE started. Meanwhile, there are fears of another recession, flat wages, and even flatter consumer credit.
Obviously the stronger companies will survive and that's in large part why we concentrate on them. But the weaker ones… whoa Nelly, they're in for a wild ride.
How do you know which is which?
Fortunately, that's not hard – there's one number that can tell you which way to play it.
Learn to "read" it properly and you'll have a tremendous advantage over most investors, for whom hope is unfortunately a viable investment strategy.
Here's the indicator that makes the difference between a "buy" and a "short."
Chances are, you already know about the Price to Equity (P/E) ratio. That's the ratio of a stock's price to its earnings. It's a simple tool, and that's why it's so powerful.
I've covered it for my Total Wealth readers – specifically, when describing how I knew that Altria Inc. (NYSE: MO) was a terrific "Buy" opportunity even when it was brushing up against 52-week highs.
And you probably know that it's one of the most commonly quoted of all financial measures. So common, in fact, that it's become ubiquitous… not to mention overlooked.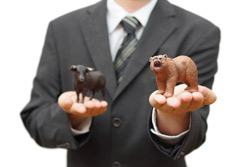 I'll bet that 99% of investors don't realize how important the ratio is. They have no idea it can make or break stocks in the short term, often resulting in quick double- or even triple-digit gains for investors and traders who really understand what they mean.
In a nutshell, high PE companies are "expensive" because the price is bid up disproportionately to earnings. Rallies usually start in the single digit PE range while retracements typically begin when PE ratios are north of 25. Not always, mind you, but enough that this rule of thumb holds true for our purposes. Right now the average S&P 500 stock sports a PE of 19.72, which is a little on the expensive side… but clearly not in bubble territory, just for perspective.
Let me show you a recent example…
Join the conversation. Click here to jump to comments…
About the Author
Keith Fitz-Gerald has been the Chief Investment Strategist for the Money Morning team since 2007. He's a seasoned market analyst with decades of experience, and a highly accurate track record. Keith regularly travels the world in search of investment opportunities others don't yet see or understand. In addition to heading The Money Map Report, Keith runs High Velocity Profits, which aims to get in, target gains, and get out clean, and he's also the founding editor of Straight Line Profits, a service devoted to revealing the "dark side" of Wall Street... In his weekly Total Wealth, Keith has broken down his 30-plus years of success into three parts: Trends, Risk Assessment, and Tactics – meaning the exact techniques for making money. Sign up is free at totalwealthresearch.com.