As of March 25, Warren Buffett's net worth is $70.9 billion. According to Forbes, he's the third-wealthiest billionaire and 12th most powerful person on the planet.
That's because Warren Buffett stocks are profit gold mines - and the "Oracle of Omaha" just made another gold mine out of the two most recognizable food brands in the world.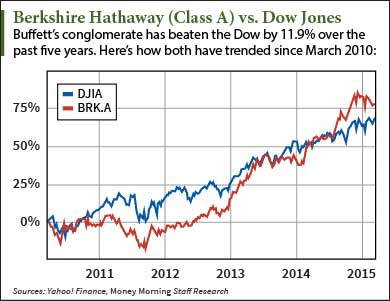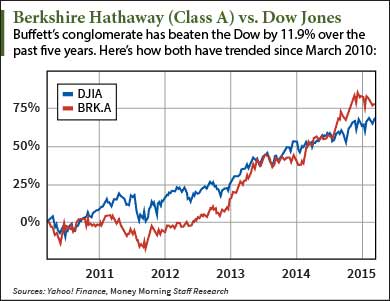 Yesterday Buffett's Berkshire Hathaway Inc. (NYSE: BRK.A, BRK.B), along with Brazil's 3G Capital Inc., oversaw the merger of the H.J. Heinz Company and Kraft Foods Group Inc. (Nasdaq: KRFT). It will be called the Kraft Heinz Company and become the fifth largest food and beverage company in the world.
Berkshire owned 192,666 Kraft shares as of Dec. 31. After KRFT jumped 36% or $21.87 in pre-market trade yesterday, that stake grew $4.2 million more valuable.
Buffett said he's liked the Kraft and Heinz brands for over 30 years and believes he'll like them 30 years from now.
"I am delighted to play a part in bringing these two winning companies and their iconic brands together," said Warren Buffett in a statement. "This is my kind of transaction, uniting two world-class organizations and delivering shareholder value."
That's just one of his stocks set for an interesting year. Here are 10 more Warren Buffett stocks to watch in 2015 for big gains...
Warren Buffett Stocks to Watch in 2015
Warren Buffett Stocks, No. 1: Deere & Co. (NYSE: DE) manufactures and distributes agriculture equipment worldwide. It's commonly known by brand name, John Deere, and sells tractors, excavators, bulldozers, and lawn mowers, among other products. Berkshire Hathaway purchased 17.1 million shares last quarter. DE stock now constitutes 1.4% of Buffett's portfolio. Its share price is slightly down, losing 0.2% so far this year.
Money Morning Members: Keep reading for nine more Warren Buffett stocks to follow in 2015. For those new to Money Morning, sign up to keep reading - it's completely free...