Earnings season is kicking into high gear. Five of the country's biggest banks and a key multinational conglomerate top the stock earnings calendar this week.
The bunch will set the tone for the remaining Q1 2015 earnings period.
So far, expectations are muted at best.
Year-over-year (YOY) earnings for the S&P 500 are forecast to decline by 4.8%, according to FactSet. Should the broad-based benchmark post a YOY decline, it will mark the first slip since Q3 2012, when the index fell 1%.
Weighing on this quarter's earnings is the U.S. dollar. The greenback is up roughly 20% versus the euro over the last seven months. The strong dollar is hampering sales and profits at big American multinationals. That has prompted these global giants to emphasize cost cutting, a move that has cramped the broader U.S. economy.
The 50% slide in oil prices since June highs is also pressuring profits. Oil's plunge will bring down revenue and earnings per share (EPS) in energy and energy-related firms.
But with earnings expectations so low, many companies could surprise to the upside.
Indeed, of the 24 companies (5%) that have reported Q1 earnings to date, 20 beat EPS expectations and 12 bested mean sales estimates.
Here's a look at six key earnings reports this week.
Stock Earnings Calendar April 14 – 17, 2015
| | | |
| --- | --- | --- |
| Company | Ticker | Earnings Date |
| Wells Fargo | WFC | April 14 |
| JPMorgan Chase | JPM | April 14 |
| Bank of America | BAC | April 15 |
| Citigroup | C | April 16 |
| Goldman Sachs | GS | April 16 |
| General Electric | GE | April 17 |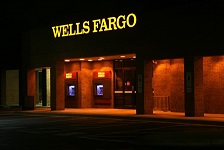 Wells Fargo & Co. (NYSE: WFC) will report Q1 results Tuesday before the bell. Expectations are for EPS of $0.98, down from $1.05 in the same quarter a year ago. Investors will be closely watching lending income, a particular driver for big commercial banks. Lending income at WFC is expected to have been held down by persistently low interest rates, as well as the fact that Q1 had two fewer days to collect interest on loans and securities than Q4. Wells Fargo, the largest mortgage lender in the United States, originates about one in every four home loans. Most of its growth over the last decade has taken place in the space. At $54.51, shares are basically flat year to date. But the darling among big banks is up 70% over the last five years. That's 30% more than its closest big-bank peer, JP Morgan Chase, according to The Wall Street Journal.