[This story was updated Aug. 3, 2015.]
If one number summarizes the oil price meltdown, it's 150,000.
According to Graves & Co., a Houston-based energy adviser that closely tracks layoffs, that's about how many oil jobs have been lost in 2015 as of Aug. 2. It's a massive hit considering about 600,000 people work in the U.S. energy industry.
While layoffs affect office and high-skilled employees, it's mostly the workers laboring in the fields who are at risk.
"The closer your job is to the actual oil well, the more in jeopardy you are of losing that job," said Tim Cook, president of PathFinder Staffing in Houston, to The Wall Street Journal. "Each time an oil rig gets shut down, all the jobs at the work site are gone. They disappear."
Here's a chart-by-chart breakdown of how deep the numbers really go...
How Many Oil Jobs Have Been Lost in 2015, Chart No. 1 - Oil Field Services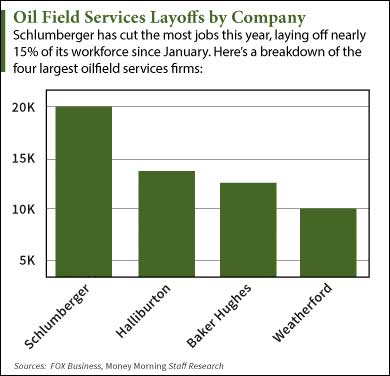 The largest layoffs come from the largest companies - and the oil field services sector has been hit particularly hard.
As of May 2014, the combined workforce of Schlumberger Ltd. (NYSE: SLB), Halliburton Co. (NYSE: HAL), and Baker Hughes Inc. (NYSE: BHI) made up 43.2% of U.S. energy employees. That number will become more significant once the Halliburton-Baker Hughes merger finalizes later this year.
Schlumberger is the top chopper with about 20,000 layoffs. The company slashed 9,000 jobs in January and cut another 11,000 in April. That constitutes 15% of its employees.
Weatherford International Plc. (NYSE: WFT) has cut about 10,000 jobs so far, roughly 20% of its workforce. Baker Hughes has laid off 13,000 employees, and Halliburton has gotten rid of nearly 14,000 employees.
The reasons why are clear in the Q2 earnings reports. Halliburton posted a 27.2% year-over-year revenue decline due to a constantly falling rig count. Baker Hughes reported a loss of $188 million, or $0.43 a share. Schlumberger saw the worst numbers, with second-quarter profit plunging by 30%.
"The abruptness of the fall in activity, particularly in North America, required us to take additional actions," said Schlumberger CEO Paal Kibsgaard in a statement.
Here are two more charts that show just how large the problem has become...