Between unrest in the Middle East, government bonds with negative yields, and international central bank stimulus measures, there's certainly no shortage of reasons to own gold this year.
And of the many ways to add the yellow metal to your portfolio, a gold ETF is a convenient option.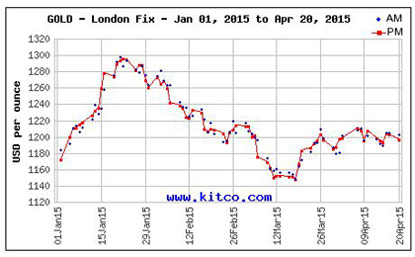 Gold acts like an insurance policy against geopolitical woes, devalued currencies, deflation, and inflation. It's also a good portfolio diversifier.
Gold prices are low right now, so it's a great time to buy. After a January rally took gold up 11% over two and a half weeks, prices stumbled. Gold's year-to-date gains have now faded to 2.5%.
But Money Morning Resource Specialist Peter Krauth recently listed several reasons he believes gold prices will see better days ahead. He predicts gold will rise from its current level ($1,199 an ounce at time of writing) to end Q2 in the $1,250 to $1,270 range.
Here's a look at what a gold ETF can offer investors – plus five top gold ETFs to get started with today…
Gold ETFs Offer Ease and Convenience
Investors have a number of options when buying gold.
Those who prefer physical gold can purchase bars, jewelry, or coins. But investing in physical gold typically requires expensive and sometimes complicated arrangements in connection with transportation, warehousing, and insurance.
Gold stocks and mutual funds are another option.
Finally, gold exchange-traded funds (ETFs) are an increasingly popular choice.
Gold ETFs provide investors with exposure to the yellow metal by tracking the price of gold. This allows investors to profit from gold's price gains without having to own physical bullion, for a more convenient and liquid way to own and trade gold.
According to ETF.com, there are currently 38 ETFs that invest in gold. That's up from 16 in 2010.
Following are the top four gold ETFs by assets and average daily volume. We've also included one that lets you exchange shares for physical gold.