For May 4, 2015, here's how the stock market did today, earnings reports, the top stock market news, and stocks to watch based on today's market moves...
How Did the Stock Market Do Today?
Dow: 18,070.40, +46.34, +0.26%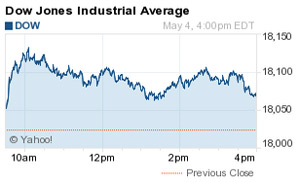 S&P 500: 2,114.49, +6.20, +0.29%
Nasdaq: 5,016.93, +11.54, +0.23%
The DJIA Index jumped 46 points Monday as healthcare stocks surged higher and shares of Berkshire Hathaway Inc. (NYSE: BRK.A) pushed the financial sector into the green.
New U.S. factory goods orders notched their highest jump in eight months as a stronger dollar continues to bolster profits for domestic companies. Meanwhile, merger talk reemerged in the cable industry as Charter Communications Inc. (Nasdaq: CHTR) executives have reached out to Time Warner Cable Inc. (NYSE: TWC) management to discuss a possible deal.
Top Stock Market News Today
Stock Market Recap: Investors are cautious after Wednesday's first quarter GDP report. The U.S. government said the nation's economy grew at a sluggish 0.2% over the first three months of the year - a figure that has many concerned that the Dow's run could be coming to an end unless dramatic changes happen soon. The U.S. Commerce Department blamed bad weather and a port shutdown for the underwhelming figures.
Activist Investors: Shares of Pioneer Natural Resources Co. (NYSE: PXD) slipped as much as 5.3% this afternoon on news that activist investor David Einhorn announced he was shorting the company during the 20th annual Sohn Investment Conference. Einhorn took aim at a number of domestic fracking companies that he argues are burning through cash and will be unable to cover costs at a time of suppressed oil prices.
On Tap Tomorrow: On Tuesday, investors will focus on two more speeches by members of the Fed Open Market Committee, while companies continue to report earnings for the March-ending quarter.
Stocks to Watch: BRK-A, MCD, CYNI, CSCO
Stocks to Watch No. 1, BRK.A: Shares of Berkshire Hathaway Inc. (NYSE: A) were up more than 1.6% today, a boost after the company reported stronger than expected earnings. Warren Buffett's conglomerate reported that its holdings in railroads, energy, and utilities fueled its earnings report. So, who will replace Warren Buffett at Berkshire Hathaway? The octogenarian made no announcement during the company's annual shareholder meeting over the weekend, a sign he has no plans of slowing down or stepping aside in the near future.
Stocks to Watch No. 2, MCD: Shares of McDonald's Corp. (NYSE: MCD) slipped 1.7% on Monday after company executives failed to wow investors with their long-anticipated turnaround plan. The plan mainly focused on cost cutting rather than overhauling its product line in order to meet changing customer tastes and habits. The firm said it will refranchise 3,500 restaurants by the end of 2018 and aims to slash $300 million in yearly net administrative costs. The company has struggled due to a meat scandal in Asia, weak earnings in a struggling European market, and domestic customers who continue to transition in dietary tastes and dining habits. Meanwhile, shares of Burger King Worldwide Inc. (NYSE: BKW) were up 17% on the day.
Stocks to Watch No. 3, CYNI: Shares of Cyan Inc. (Nasdaq: CYNI) jumped 26.5% this afternoon on news that the software maker will be acquired by fiber-optic networking giant Ciena Corp. (Nasdaq: CIEN) for roughly $400 million. Shares of CIEN jumped more than 1.6% on news of the deal. The cash-and-stock deal is expected to close at the end of the year.
Stocks to Watch No. 4, CSCO: Shares of Cisco Systems Inc. (Nasdaq: CSCO) were up marginally, 0.3%, this afternoon following an announcement that CEO John Chambers plans to step down after 20 years in the role. Chambers will walk away in July. Cisco will be remembered as a symbol of the dot-com era at the start of the century after its market soared past $600 billion and crashed spectacularly. The firm has struggled in recent years as it failed to adapt its business model to meet growing demand in cloud computing. The company's new CEO will be Chuck Robbins, who joined the company in 1997.
What Investors Must Know This Week
Join the conversation. Click here to jump to comments…
About the Author
Garrett Baldwin is a globally recognized research economist, financial writer, consultant, and political risk analyst with decades of trading experience and degrees in economics, cybersecurity, and business from Johns Hopkins, Purdue, Indiana University, and Northwestern.