Job layoffs in the U.S. soared 68% in April. Low oil prices pressured companies across all sectors to trim headcount.
U.S.-based employers announced a whopping 61,582 job cuts last month, global outplacement consultancy Challenger, Gray & Christmas Inc. reported Thursday. That was up from 36,594 in March. It was also 53% higher year over year, when the job cut tally was 40,298.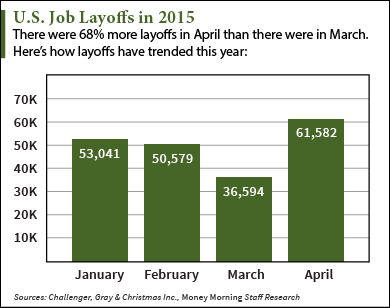 April's count represents the highest monthly total since May 2012, when 61,887 job reductions were announced. It also marks the highest April total since 2009, when job layoffs hit 132,590.
Since January, employers have announced a staggering 201,796 layoffs. That's the largest four-month tally since 2010. It's also a 25% increase from the 161,639 layoffs counted during the same period last year.
Of the 61,582 layoffs announced in April, 20,675 (34%) were directly attributed to oil prices. That brings the year-to-date job cuts stemming from low oil to 68,285, or 34% of the totally layoffs.
Ranked second for handing out the most pinks slips this year is retail. The sector has announced 25,096 layoffs year to date (YTD).
"Low oil prices should be helping retailers," John A. Challenger, chief executive officer of Challenger, Gray & Christmas, said in a statement. "However, the extra money in Americans' wallets does not appear to be making it into the nation's cash registers. Retail sales have been lackluster, at best."
Indeed, on the heels of a soft earnings report, consumer products giant Procter & Gamble Co. (NYSE: PG) announced last month it will reduce headcount by some 6,000 workers over the next two years.
"We could be witnessing the after-effect of the severe and protracted recession," Challenger continued. "Much like the generation that lived through the Great Depression, those who scraped by during the recession are being extra careful with their money. Another factor is that not everyone's boat is rising with the tide. Many Americans are still struggling to find work and those that do are not earning as much as they once did."
Here are the companies with the biggest job layoff announcements in the U.S. so far this year...
New Job Layoffs in the U.S.: April Numbers
Schlumberger Ltd. (NYSE: SLB) announced April 17 it would slash another 11,000 jobs amid a 29% decline in Q1 profit. That's on top of the 9,000 jobs the company previously announced. Since the peak reached in Q3 2014, the beleaguered oil field services company has reduced its workforce 15%.
Baker Hughes Inc. (NYSE: BHI) reported on April 21 it will increase job cuts from 7,000 to 10,500, as it wrestles with slumping North American oil drilling. That brings the oil field services company's YTD job cut total to about 17% of its workforce. The Houston company expects the downturn to continue in Q2, and will make more cuts if needed.
Halliburton Co. (NYSE: HAL) said on April 20 it cut 9,000 jobs in Q4 2014 and Q1 2015, citing crashing oil prices. That represents more than 10% of the oil field services company's workforce. Halliburton said it will likely have to layoff more employees by the end of June.
Weatherford International Inc. (NYSE: WFT) reported on April 22 it plans to lay off 18% of its staff by the end of Q2. The bulk of the cuts will come in its North American operations. At the end of March, the oil-services company had 49,000 workers. That's down from 56,000 at 2015's start.
Nobel Energy Inc. (NYSE: NBL) announced on April 7 it will lay off 220 U.S. employees. The natural gas producer blamed weak oil prices for the workforce reductions.
SandRidge Energy Inc. (NYSE: SD) officials reported on April 2 it will lay off 132 workers. That's about 20% of the Oklahoma City-based oil company's workforce.
ConocoPhillips (NYSE: COP) announced on April 1 it has begun laying off workers amid the persistent fall in oil prices. The nation's largest independent oil and gas producer wouldn't confirm how many workers are caught up in the reduction. Estimates put it in the dozens.
[epom key="ddec3ef33420ef7c9964a4695c349764" redirect="" sourceid="" imported="false"]
Wal-Mart Stores Inc. (NYSE: WMT) unexpectedly closed five stores in four states on April 17. The closure idled 2,200 workers in Texas, California, Oklahoma, and Florida.
U.S. Steel Corp. (NYSE: X) confirmed on April 29 it has issued layoff warnings to about 9,000 workers nationwide this year. The steel giant's profits have been pressured by cheap imports and a depressed energy market.
Meredith Corp. (NYSE: MDP) announced April 21 that about 100 employees will receive pink slips. On April 24, the publisher of magazines reported another 80 positions will be eliminated.
Boeing Co. (NYSE: BA) reported it notified 319 employees in Washington they will be laid off as of April 24. At the end of January, Boeing had 80,199 employees in Washington, nearly half its entire workforce. The company's Washington workforce has been declining for the past couple years. In October 2012, it had 87,023 workers in Washington of 175,742 worldwide. The last time Boeing had fewer than 80,000 employees in the state was in August 2011.
Salix Pharmaceuticals Ltd. (Nasdaq: SALX) announced on April 3 that 258 employees will be laid off. That's about a third of its workforce. The N.C.-based company was bought by Canada-headquartered Valeant Pharmaceutical Intl Inc. (NYSE: VRX) in February for more than $11 billion.
American Apparel Inc. (NYSEMKT: APP) announced on April 1 it has started laying off about 180 workers. The job cuts are mostly in its Southern California operations and are part of the clothing maker's attempts to turn around years of losses. The layoffs affect about 2% of the company's 10,000 employees.
Don't miss an update on the biggest trends affecting your money - stay connected with @moneymorning on Twitter.