Job layoffs in the U.S. soared 68% in April. Low oil prices pressured companies across all sectors to trim headcount.
U.S.-based employers announced a whopping 61,582 job cuts last month, global outplacement consultancy Challenger, Gray & Christmas Inc. reported Thursday. That was up from 36,594 in March. It was also 53% higher year over year, when the job cut tally was 40,298.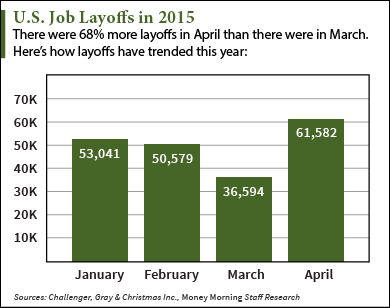 April's count represents the highest monthly total since May 2012, when 61,887 job reductions were announced. It also marks the highest April total since 2009, when job layoffs hit 132,590.
Since January, employers have announced a staggering 201,796 layoffs. That's the largest four-month tally since 2010. It's also a 25% increase from the 161,639 layoffs counted during the same period last year.
Of the 61,582 layoffs announced in April, 20,675 (34%) were directly attributed to oil prices. That brings the year-to-date job cuts stemming from low oil to 68,285, or 34% of the totally layoffs.
Ranked second for handing out the most pinks slips this year is retail. The sector has announced 25,096 layoffs year to date (YTD).
"Low oil prices should be helping retailers," John A. Challenger, chief executive officer of Challenger, Gray & Christmas, said in a statement. "However, the extra money in Americans' wallets does not appear to be making it into the nation's cash registers. Retail sales have been lackluster, at best."
Indeed, on the heels of a soft earnings report, consumer products giant Procter & Gamble Co. (NYSE: PG) announced last month it will reduce headcount by some 6,000 workers over the next two years.
"We could be witnessing the after-effect of the severe and protracted recession," Challenger continued. "Much like the generation that lived through the Great Depression, those who scraped by during the recession are being extra careful with their money. Another factor is that not everyone's boat is rising with the tide. Many Americans are still struggling to find work and those that do are not earning as much as they once did."
Here are the companies with the biggest job layoff announcements in the U.S. so far this year...