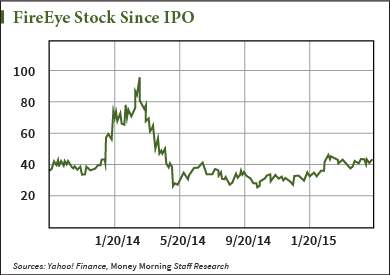 FireEye stock (Nasdaq: FEYE) jumped 5% yesterday (Wednesday) on rumors that network hardware giant Cisco Systems Inc. (Nasdaq: CSCO) was looking to buy the small cybersecurity company.
And sure enough, when Cisco CEO John Chambers all but put those rumors to rest, FireEye stock fell. By early afternoon today, FireEye Inc. (Nasdaq: FEYE) stock had fallen 3.3%.
The sudden drop in the price shows just where the market values cybersecurity stocks right now.
You see, Wall Street isn't interested in what the next big cybersecurity solution is going to be.
Wall Street is only going to be interested in how this nascent, but all-too-important, industry is going to consolidate - and which big tech giant looking to shore up its cybersecurity portfolio will gobble up smaller players like FireEye.
If the market actually valued cybersecurity products and not just M&A opportunity, then FireEye would have been a darling and not a flash in the pan like it was.
Just look at these times FireEye stock failed to rally, despite news of how important cybersecurity is:
On Dec. 19, 2013, Target Corp. (NYSE: TGT) confirmed that it was a target of cyberattacks. FireEye stock traded in a narrow range for the next couple weeks to follow.
However, FireEye stock did get a big boost at one point since its IPO in September 2013. And that jump has been more telling for the industry than this string of cyberattacks...
Why FireEye Stock Climbed in January 2014
On January 3, 2014, the FireEye stock price soared 28%. In the weeks to follow it traded up at high as $95.63 on March 5.
By this point in the year, FireEye stock was up 119%. It wasn't because the company unveiled some new cybersecurity innovation that promised to stop hackers.
In fact, the jump really had nothing to do with FireEye's cybersecurity solutions...