Uber Technologies Inc. has reportedly completed a new round of funding that values the firm at more than $50 billion.
The additional funding means another delay for the Uber IPO date. No plans for an initial public offering have been announced, but an Uber IPO could come as soon as 2016 for the ride-sharing firm.
According to The Wall Street Journal, Uber raised roughly $1 billion in this latest funding round. That makes it the highest-valued startup in the world. It also ties Facebook Inc.'s (Nasdaq: FB) record as highest valued startup pre-IPO.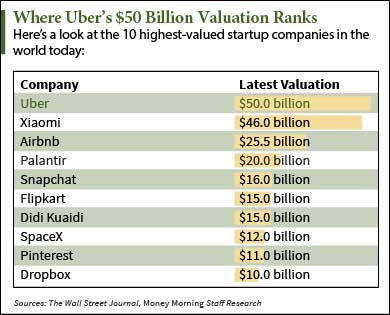 The Journal reports the latest round of funding will help Uber strengthen its technology and help with global expansion. Microsoft Corp. (Nasdaq: MSFT) and the Indian Media company Bennett Coleman & Co. are said to be investors.
Uber has grown at a tremendous rate. In May 2014, the San Francisco-based company was valued at $18 billion. Its value topped $40 billion by December 2014. In the first quarter of 2015, business spending on Uber accounted for 46% of the entire transportation market. That's more than three times higher than Uber's Q1 2014 share of 15%.
Uber officials said they had more than $400 million in revenue in 2014 and expect that number to climb to $2 billion for the full-year 2015.
If Uber comes to market with a $50 billion valuation, it will already be bigger than Twitter Inc. (NYSE: TWTR), Yahoo! Inc. (Nasdaq: YHOO), and CBS Corp. (NYSE: CBS).
The massive valuation sets up the Uber IPO to be the most hyped public offering since the Alibaba Group Holding Ltd. (NYSE: BABA) deal of September 2014.
While there is no timetable set for the Uber IPO, there is a way to prepare yourself for this initial public offering. With this one simple strategy, you can start profiting today, months before the Uber IPO...