Who is Alibaba's New President? Alibaba Group Holding Ltd. (NYSE: BABA) just announced today that former Goldman Sachs Group Inc. (NYSE: GS) executive J. Michael Evans will be taking over as the company's president.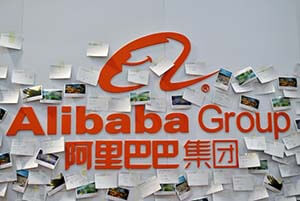 Company officials announced that Evans will focus on Alibaba's global expansion strategy. He will work to create partnerships in the Americas, Europe, and throughout Asia with various brands, product owners, and retailers.
Evans spent 20 years at Goldman Sachs, working in both London and Hong Kong, and became the chairman of Goldman Sachs Asia Pacific. Eventually, he was named the global head of growth markets.
"As we connect Alibaba and the rest of the world, we are turning to a proven international leader who has been connecting China and the rest of the world for most of his career," Alibaba's founder, Jack Ma, said in a statement today.
Evans has been a member of Alibaba's board of directors since the IPO in September 2014. Evans will remain on the board as a management member. He will report to Alibaba Chief Executive Officer Daniel Zhang.
Alibaba has been working to expand globally since it first announced plans for an IPO in 2014. Ma has been on an acquisition spree for well over a year that has brought him into the media, entertainment, traditional retail, and even professional soccer industries.
"We want to be bigger than Wal-Mart," Ma told CNBC the morning of the IPO. "We hope in 15 years people say this is a company like Microsoft, IBM, Wal-Mart; they changed, shaped the world."
Alibaba stock was up 1% today after the announcement. BABA shares have had a tough run in 2015, down 24.2% as investors worry about the suffering Chinese stock market.
But according to Money Morning experts, Alibaba stock is an excellent buy at these low prices. In fact, this is one of the best buy-and-hold investments on the market today…
Follow us on Twitter @KyleAndersonMM and @moneymorning.
Like us on Facebook: Money Morning