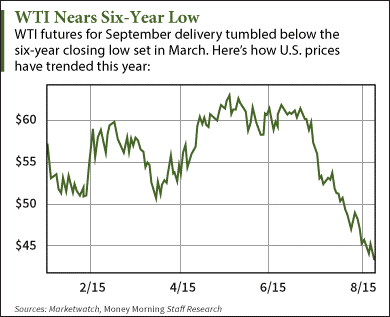 The WTI crude oil price today (Tuesday) dropped toward a six-year low after China's unexpected decision to devalue its yuan currency.
At 10:10 a.m., the WTI crude oil price was down 3.74% and trading at $43.28 a barrel. Today's losses erased yesterday's gains of 2.5%, which came on a respite in the U.S. dollar's rally. The U.S. benchmark has fallen 8.1% in August so far.
The Brent crude oil price was slightly less volatile this morning. The international benchmark ticked down 2.82% to trade at $49.58 a barrel. Futures have dropped 6.2% this month.
The steep fall in the WTI crude oil price today came after China devalued the yuan following weekend data that showed the country's exports tumbled 8.3% in July. This morning, China's central bank – the People's Bank of China (PBOC) – depressed its value by 1.9% to 6.23 yuan per dollar. That marks the lowest point since 2012 and the largest one-day fall since 1994, when China issued a massive devaluation after aligning its official and market rates.
Although the nation touts the devaluation as a way to reform its struggling markets, it raises international concerns that China's government is panicking.
"Since China's trade in goods continues to post relatively large surpluses, the yuan's real effective exchange rate is still relatively strong versus various global currencies, and is deviating from market expectations," the PBOC said in a statement. "Therefore, it is necessary to further improve the yuan's midpoint pricing to meet the needs of the market."
Since most commodities, like crude oil, are pegged to the U.S. dollar, China's decision will make these imported commodities more expensive.
But what most investors don't know is that China's oil demand and economic woes don't affect each other as much as pundits are saying.
According to Money Morning Global Energy Strategist Dr. Kent Moors, the country's energy needs will remain stronger than ever…
How China's Situation Will Boost the WTI Crude Oil Price