During China's stock market crash, the Shanghai Composite Index has fallen more than 26% since June 12.
And as the world's second-largest economy, China's stock market crash is now weighing on global markets.
Here's a look at how other global stock markets have performed since China's stock market began crashing: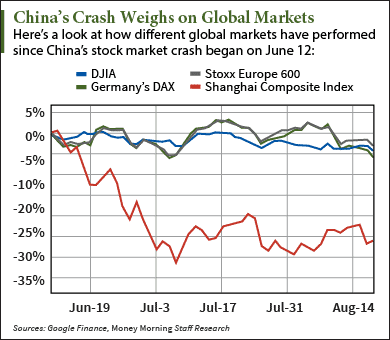 Since June 12, the Dow Jones Industrial Average has posted a loss of 4.1%. And it's not the only U.S. index that's fallen. The S&P 500 has dropped 1.7%, while the Nasdaq is down 1.6%.
The STOXX Europe 600 Index tracks large-cap, mid-cap, and small-cap stocks across 18 European countries. Since China's stock market struggles began, the STOXX has dropped 2.9%.
Germany's DAX Index is down 5.7% since June 12. That index is filled with exporting companies that are highly dependent on Chinese demand, according to The Wall Street Journal.
Money Morning Technical Trading Specialist D.R. Barton made his regular appearance on FOX Business this week and discussed the impact China's stock market crash is having worldwide. While it hasn't become a major problem in the United States yet, a continued slump in China is bad for the global economy…
"The market problems in China are going to affect Australia, New Zealand, and their Asian trading partners first," Barton said. "But that trickle-down effect is heading our way, no doubt about it. U.S. markets have been very robust in the face of this, but it's really going to be a problem down the road."
While many investors are worried about China's stock market and its impact on U.S. markets, you don't have to panic.
Watch the video for an explanation of China's stock market crash, plus how investors can protect themselves – and even profit – from these events… 
Follow us on Twitter @KyleAndersonMM and @moneymorning.
Like us on Facebook: Money Morning.
China Targets the Gold Market: The Chinese government has a multi-pronged strategy to strengthen the Asian giant's economy. After years of playing second fiddle in the gold market to the Western economic powers in Europe and the United States, China is making moves toward a more influential role. Here's how China plans to dominate the world gold market…