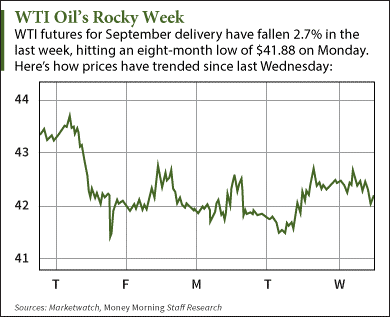 The WTI crude oil price dropped today (Wednesday) after the U.S. Energy Information Administration (EIA) released its weekly supply report.
At 10:35 a.m., five minutes after the report came out, WTI crude oil prices fell 2.1% to trade at $41.73 a barrel. The U.S. benchmark has seen a massive sell-off in the last two months, plunging 30.8% since June 18.
Brent crude oil prices fell half as much. The international benchmark ticked down 1% to trade at $48.32 a barrel after the report. Brent futures have shed 8.6% so far in August.
This morning's WTI crude oil price drop came after the EIA reported oil inventories increased by 2.6 million barrels last week. That defied analyst forecasts of a 1.2 million barrel decline. At a total of 456.2 million barrels, U.S. oil stockpiles remain near levels not seen in the last 80 years.
Despite the persisting glut, demand will eventually outpace supply. And today's low prices give us the perfect opportunity to buy certain oil stocks at a discount before prices rebound. After all, many large oil firms like Chevron Corp. (NYSE: CVX) and Exxon Mobil Corp. (NYSE: XOM) have depreciated more than 22% since last summer.
Here are two undervalued oil stocks with huge growth potential as demand soars and companies adjust to the new market environment…
Follow us on Twitter at @AlexMcGuire92 and @moneymorning.