China's stock market crash was the top news around the world today (Monday) as the Shanghai Composite plummeted 8.5%. The drop marked the worst one-day performance for Chinese stocks in more than eight years.
The drop pushed the Shanghai Composite into the red for the year. Before the recent crash, the index had been up 60% on the year. It has now fallen more than 37% in just two months.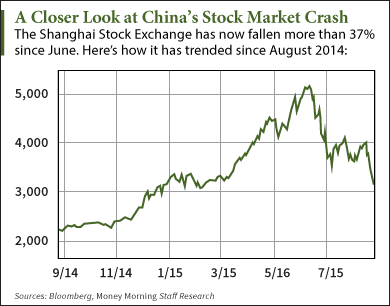 The smaller Shenzhen Composite crashed 7.7% on Monday.
Fears over slowing economic growth in the country have continued to push stocks lower. The Chinese government has been doing everything it can to prevent a stock market crash. That includes an interest rate cut by China's central bank, a halt on IPOs, and even two surprise devaluations of the yuan.
None of that seems to be working…
"Compared with the sell-off in June and July, when investors still harbored hope of government rescue measures, this time investors are completely despairing because the previous government stabilization measures have failed," Capital Securities analyst Amy Lin told The Wall Street Journal today.
The stock market crash in China weighed heavily on global stocks.
The Dow Jones Industrial Average fell more than 1,000 points in early trading Monday before paring losses. By 2:00 p.m., the Dow had recovered most of the losses, but was still down more than 330 points.
European markets were also crushed by China's woes. The UK's FTSE dropped 4.7% in its worst one-day performance since 2009. The Stoxx Europe 600 closed more than 5.3% today, while Germany's DAX was down 4.7%.
Japan's Nikkei 225 dropped 4.6% and hit its lowest level since February.
"The saying used to be, when the United States sneezes, the world catches a cold," Money Morning Capital Wave Strategist Shah Gilani said today. "That's now true of China. And China is sneezing, hacking, loading up on NyQuil, and taking three days off work."
Unfortunately, Gilani sees more pain ahead for U.S. stocks, and not just because of China's woes. The thinking that the U.S. Federal Reserve may soon raise interest rates, along with falling commodity prices, will also continue to weigh on the U.S. markets.
"There's just no good news left to lift stocks higher," Gilani said. "There's no market leadership from any industry, other than the brief momentum runs made by some tech darlings and a bunch of hot biotech companies promising next-century solutions… to yesterday's problems."
But instead of panicking, there are several steps you can take to protect yourself and actually profit from China's stock market crash…