The Shanghai Composite jumped 5% today (Friday), marking its second consecutive day of impressive gains. On Thursday, the Shanghai Composite climbed 5.4%.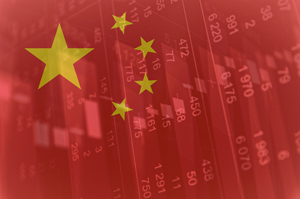 Despite the late rally, the Shanghai Composite Index is still down 7.8% on the week and roughly 37% from the high it set in mid-June. The Shanghai Composite ended the week at 3,232.34.
The People's Bank of China (PBOC) contributed to the rally by reportedly purchasing shares of blue-chip stock on China's stock market. China's central bank also had commercial banks buy large chunks of yuan in the PBOC's stead.
These were not the first attempts by the central bank to lift China's stock market. On Tuesday, the PBOC cut its key lending rate by 0.25% to 4.6%. It also reduced banks' minimum reserve requirement by 0.5%, effective Sept. 6. The move will add roughly 678 billion yuan (about $105.7 billion) into the Chinese economy.
Also contributing to the rebound in China's stock market was soaring oil prices. WTI crude oil was up 4.6% on Thursday and trading over $50 a barrel. Brent crude oil prices soared 4.4% on Thursday.
China's strong performance led U.S. stocks higher on Thursday as the Dow Jones Industrial Average rose 369 points. However, the Dow was down again on Friday roughly 65 points in early trading.
The Shanghai Composite's drop has weighed heavily on U.S. stocks in the last week. The Dow Jones Industrial Average is now down more than 7% year to date.
And while the rebounds on Wednesday and Thursday were encouraging, Money Morning Capital Wave Strategist Shah Gilani says we're not out of the woods yet.
"That down draft was quite frightening," Gilani said on FOX Business' "Varney & Co." today. "We've got a long way to go before we clear the air here."
While many investors are worried about China's stock market and its impact on U.S. markets, you don't have to panic.
Here are three of our Money Morning Editors' favorite strategies for protecting your money during a stock market correction...
Follow us on Twitter @KyleAndersonMM and @moneymorning.
Like us on Facebook: Money Morning.
Protect Yourself from a Total Market Collapse: According to CIA Asymmetric Threat Advisor Jim Rickards, there are five "flashpoints" that signal the death of the U.S. dollar and a complete economic collapse in the United States. Here's how you can protect yourself, and your money, before it's too late...