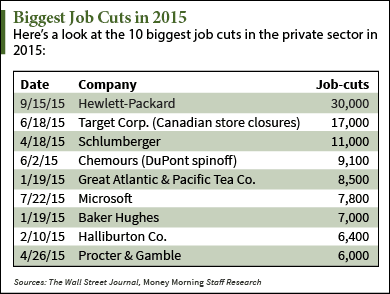 September layoffs surged as U.S.-based employers announced plans to slash 58,877 jobs.
According to the global outplacement consultancy Challenger, Gray & Christmas, September layoffs were up 43% from August. The total was also up 93% from September 2014, when 30,477 planned layoffs were announced.
September's tally is the third largest of 2015, behind only July (105,696) and April (61,582).
Overall, 205,759 jobs cuts were announced in Q3. That marked the largest job-cut quarter since Q3 2009, when 240,232 layoffs were announced.
Year to date, employers have announced 493,431 planned layoffs. That's up 36% from the 363,408 cuts announced in the same period last year. In fact, 2015's YTD total is already 2% higher than 2014's full-year total of 483,171.
Oil companies had dominated the layoff tallies in 2015's first two quarters. But many of the September layoffs came from the public sector and the computer industry.
The computer industry saw the steepest job cuts in September, thanks to Hewlett-Packard Co.'s (NYSE: HPQ) 30,000 layoffs. In total, the industry saw 32,500 job cuts last month. That's the highest one-month tally for the industry since IBM announced 60,000 job cuts in 1993.
For the year, the biggest job cutting sector is energy, with 72,708 planned job cuts reported since Jan. 1. While the pace has slowed, the sector still looks vulnerable.
"We could see more fallout, which appears to have its origins in China, which after years of building up its national infrastructure appears to now have far too much capacity," the Challenger, Gray & Christmas report said. "As a result, manufacturing plants, retail stores, and even entire apartment buildings are sitting empty."
Here's a look at some of the most notable companies on the September layoffs list...