Netflix earnings for Q3 2015 came out today (Wednesday), and the company reported earnings per share (EPS) of $0.07 on revenue of $1.58 billion.
Analysts had forecasted EPS of $0.08 on revenue of $1.75 billion. While earnings were down 50% from last year, revenue climbed more than 29%.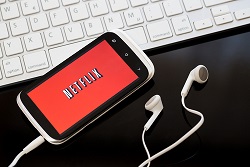 Netflix Inc. (Nasdaq: NFLX) stock is always volatile following earnings. Today the stock was immediately down 14% after the earnings miss.
But that Netflix earnings dip is not a major cause for concern. The company has been investing heavily in global expansion, as it tries to boost its user total.
The NFLX stock drop is surprising considering Netflix reported total user growth of 3.62 million. That topped analyst estimates of 3.55 million new subscribers in the quarter. User growth is always the most important number for NFLX.
International user growth was 2.74 million in Q3. That topped analyst estimates of 2.4 million new international subscribers.
Netflix now claims a total user base of 69 million members and plans to end 2015 with more than 74 million.
"Netflix is seeking to become the preeminent provider of content globally," Money Morning Defense & Tech Specialist Michael A. Robinson said. "Right now, they are going through an Amazon.com Inc. (Nasdaq: AMZN) style growth period. It's the Bezos model – build, build, build – then the profits will follow."
The company's user growth has been rapid. This time last year, it had just over 53 million subscribers. In October 2014, it was just 40 million. If you go all the way back to October 2012, the total was 29 million.
And Netflix is so confident that its numbers will keep growing that it bumped the cost of its basic streaming service from $8.99 a month to $9.99 per month.
"The fact they are able to raise subscription prices on new subscribers means they are confident in their growth ability, and their ability to add new subscribers," Robinson said.
Despite the incredible growth trajectory, Netflix stock is not the perfect investment for every investor…