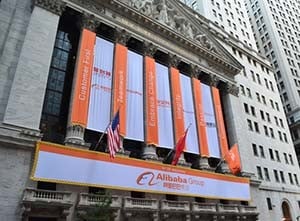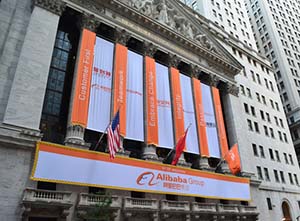 Alibaba Group Holding Ltd. (NYSE: BABA) stock had fallen more than 43% in 2015 through September, but the stock has rebounded more than 25% in the last month.
That has investors wondering if they should buy Alibaba stock now...
Alibaba is preparing to report fiscal Q2 earnings on Tuesday, Oct. 27, and the company expects strong top and bottom line growth. Analysts forecast earnings per share of $0.32 on $3.35 billion in revenue. By matching those estimates, Alibaba will have grown EPS by 28% and revenue by 26.7% year over year.
Alibaba stock has been volatile following earnings in the past, and this quarter should be no different. If Alibaba misses either of those estimates, don't be surprised to see BABA shares start dipping again.
And if they do drop following Alibaba earnings, that will be an excellent buying opportunity.
Last quarter, Alibaba stock dropped as much as 8.2% after it reported revenue missed by just $130 million. It was a classic overreaction to Alibaba earnings. While revenue missed estimates, it still grew 28% year over year. Alibaba also beat EPS in the quarter and grew profits by 148%.
That's been the story with Alibaba stock since it hit the market. The impressive numbers it posts every quarter somehow fall short of investors' expectations.
At Money Morning, we've remained bullish on the long-term value of Alibaba stock throughout 2015 and continue to recommend long-term investors buy Alibaba stock.
And not just because we expect another solid quarterly earnings report. We see Alibaba becoming a global powerhouse in numerous industries...
Why We Recommend Investors Buy Alibaba Stock Now