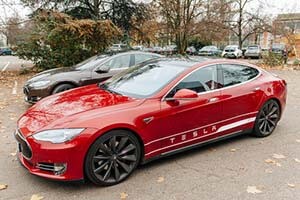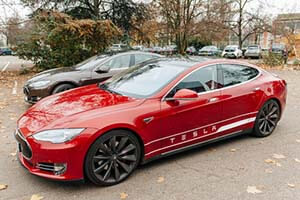 The Tesla Motors Inc. (Nasdaq: TSLA) stock price has tanked 13.9% in the last month, and many are wondering if this is a good time to buy Tesla stock now that it's at a discounted price.
Tesla Motors is under extra scrutiny this week as the company prepares to report quarterly earnings after the bell on Tuesday, Nov. 3. Analysts are expecting an earnings per share (EPS) loss of $0.48 on revenue of $1.26 billion.
While the company is projecting a loss for the quarter, revenue is expected to grow 35.6% year over year.
Aside from EPS and revenue figures, investors will also be looking closely at total vehicle sales in the quarter. Last week, Tesla announced record sales in China for the quarter at 1,345 vehicles. That was up from Q2 China sales of 883 vehicles and Q1 sales of 797.
China sales accounted for 11% of Tesla's total sales in Q3, but the company expects that share to grow. CEO Elon Musk told the Chinese news agency Xinhua News he expects China sales to match U.S. sales in the next five or six years.
Investors should watch for any updates on Tesla's China business in the earnings report. Other areas to watch will be total deliveries, production numbers, Model X sales, and any update on the construction of the Tesla Gigafactory.
If Tesla posts disappointing earnings figures, you can expect the Tesla stock price to drop even further next week. Tesla is one of the most volatile stocks on the market, and earnings reports can cause major price swings.
And if you're wondering if you should buy Tesla stock now, it's important to know exactly why the stock has fallen nearly 14% in the last month...
Should I Buy Tesla Stock on the Recent Dip?