China's grave dancers have taken great pleasure in convincing millions of investors that the nation will never succeed based on any number of erroneous arguments...
...not democratic
...not capitalist
...not worthy of world leadership
Underneath it all, this was little more than thinly veiled contempt for Beijing's 35-year-old "one child" policy. Called yousheng, the law has averted an estimated 400 million births over the years in the name of modernization and efficient resource consumption.
Now that law's been scrapped, and couples will be allowed to have two children.
The White House and much of the mainstream media wasted no time posturing after the announcement. Press Secretary Josh Earnest, for example, noted that the policy is a "positive step," but that "we also look forward to the day when birth limits are abandoned altogether." Amnesty International said bluntly that the policy change was "not enough."
They're missing the point.
Sign up for SMS so you never miss special events, exclusive offers, and weekly bonus trades.
China's policy reversal is the gutsiest move yet in the ongoing global financial crisis. It's a game changer of the highest magnitude. Moreover, it's great news for savvy investors.
Today we're going to talk about why and, of course, how to align your money for maximum profits.
China Re-Opened the World's Most Important Window
We've talked a lot about China over the years together and, at this point, you should be well-versed in the logic propelling that nation onto the world's stage. But what we haven't spent a lot of time talking about is what's driving things behind the scenes.
Today, we're going to change that with a look at something called the "Window of Opportunity."
The Window of Opportunity is a little-understood data point that actually drives several of our Unstoppable Trends, including Demographics, Medicine, and Human Augmentation.
If you've never heard the term before, the "window" refers to the composition of a country's working age population. While there are some variations, generally that's people between the ages of 15 and 65. (Remember these numbers, by the way, because we're going to come back to them in a few minutes.)
Anyway, the window is "opening" when a country's population is growing and the number of younger people is declining at a time when the older population is small or in decline. It's "closing" when the working age population is in decline at a time when the number of children is growing together with the number of elderly who are no longer working.
The reason why is pretty straight forward.
People live longer. Children and the elderly produce less, yet consume more. The cost of urbanization rises, as does systemic government spending even as per capita output falls to cope with rising dependency on everything from social services to private resources.
Typically, the window is around 30 to 40 years long and rotates around the world. For example, Japan's window was opening from 1965 to 1995. Our window was open here in the United States from 1970 to 2015. China's opened up in 1990 and will continue to open until 2025. Brazil and India will follow.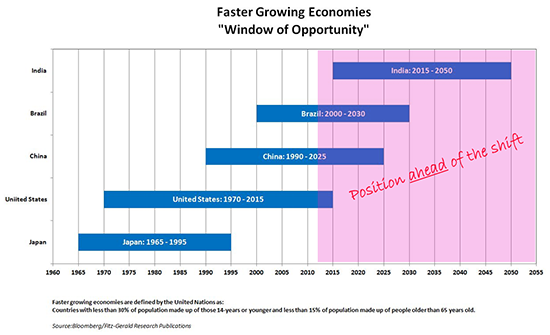 I realize that this can be hard to comprehend, so let me put this another way.
In 1975, there were three people living in emerging market countries for every one in a developed country. By 2009, that had changed to 4.7 people in emerging market countries for every one in a developed country. By 2050, the figure will be 7.5 to 1. That's a huge shift only 36 years from now.
Which means, by implication, now's the time to act if you really want to make your fortune.
Join the conversation. Click here to jump to comments…
About the Author
Keith is a seasoned market analyst and professional trader with more than 37 years of global experience. He is one of very few experts to correctly see both the dot.bomb crisis and the ongoing financial crisis coming ahead of time - and one of even fewer to help millions of investors around the world successfully navigate them both. Forbes hailed him as a "Market Visionary." He is a regular on FOX Business News and Yahoo! Finance, and his observations have been featured in Bloomberg, The Wall Street Journal, WIRED, and MarketWatch. Keith previously led The Money Map Report, Money Map's flagship newsletter, as Chief Investment Strategist, from 20007 to 2020. Keith holds a BS in management and finance from Skidmore College and an MS in international finance (with a focus on Japanese business science) from Chaminade University. He regularly travels the world in search of investment opportunities others don't yet see or understand.