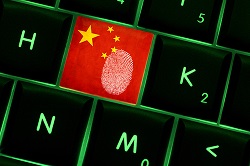 Presidents Xi Jinping of China and Ma Ying-jeou of Taiwan will meet Saturday. The China-Taiwan meeting will be the first since the Communists' victory in the civil war of 1949.
No deals are expected to be discussed, nor are any treaties expected to be signed. President Xi Jinping will be especially careful not to lend legitimacy to the Taiwanese leader. That's because China still claims Taiwan as its own.
The fact that it is happening less than three months before Taiwan's presidential election is a sign of how concerned China is right now. The countries' significantly improved ties of recent years could be jeopardized if Ma's opposing party, the pro-independence Democratic Progressive Party (DPP), wins.
The United States should be concerned too - there will be serious cybersecurity implications should China feel threatened. Here's why...
The Hidden Threat Behind First China-Taiwan Meeting in 70 Years
The elections - and the meeting - come on the heels of heightened anti-Chinese sentiment in Taiwan, particularly among youth.
Current polls indicate that President Ma Ying-jeou's ruling Kuomintang (KMT) party will lose in January to the opposing DPP, which historically favors independence from China, reported Christian Science Monitor on Tuesday.
By contrast, Mr. Ma has worked to improve relations with China since his election in 2008.
Outward dispatches from government headquarters in Beijing express interest in softening relations with the small island country. But China also has launched an estimated 7.7 million cyberattacks against Taiwan's national security infrastructure, reported U.S. News on Oct. 24, 2014.
Should the relationship between China and Taiwan deteriorate, that's bad news for the United States.
You see, Western analysts believe China uses Taiwan as a testing ground for computer viruses and hacking methods before trying similar attacks on the bigger powers - like America.
And recently, China has also taken overt aggressive actions that have angered neighbors and international powers. One example is the "aerial defense identification zone" (airspace in which the identification, location, and control of civil aircraft over land or water is required in the interest of national security) it created in late 2013 over zones purportedly claimed by Taiwan as its own.
Such threats heighten tensions for third parties dealing with China, including the United States. A trickledown of more effective Chinese hacks could - and would most likely - be employed against American intelligence after heightened testing on Taiwan's security.
Find us on Twitter @moneymorning.
Yuan in on Some Important Currency Information? It's almost certain a yuan reserve currency will become reality 11 months from now, triggering a foreign currency shift of as much as $2 trillion - an existential threat to the U.S. dollar's status as the world's primary reserve currency. Here's how the markets are about to be reshaped...