The chances of an actual interest rate hike by the U.S. Federal Reserve just got real - and asset prices are on the move...
Team Yellen got a big reason to raise rates with Friday's release of the October U.S. employment numbers. The report surpassed most estimates by adding 271,000 jobs; the consensus was for about 100,000 fewer than that.
This puts the unemployment rate at 5% - its lowest level since 2008. Markets immediately reacted with lower bond prices, lower commodity prices, and in many cases, lower stock prices.
The Fed could announce a rate hike at the end of its next policy meeting on Dec. 16. That would be especially good news for a certain U.S. industry I'll talk about today.
One particular stock in this sector climbed 65% in a little over two years after the last rate hike. But now you have the chance to make more - and in less time. The easy options play I outline here could double your money in just weeks...
These Stocks Benefit Most from a Fed Rate Hike
The last U.S. rate hike was June 29, 2006, when Ben Bernanke and the Federal Open Market Committee (FOMC) raised the federal funds rate one-quarter point to 5.25%.
Markets peaked a little over a year later, climbing another 25%. The stocks that benefitted the most in that time were banks and brokerages.
A lot of these firms' profits rely on higher interest rates. As the Treasury rate climbs, most businesses see the cost to borrow money increase, which puts a damper on profits. But when you are on the other side of that coin, like banks and brokerages, you see your profits actually increase.
And the banks and brokerages that stand the most to gain are ones that are a bit of both...
Charles Schwab Corp. (NYSE: SCHW) is just that. It's a bank by default, with a few branches scattered among the United States. But its brokerage service is where it stands to rake in the profits.
Charles Schwab is one of the world's fastest-growing brokerage houses. It added an average of 80,000-plus gross accounts every month in 2014.
Tack this upcoming Fed-driven jolt of money into an already growing company and that should equal a higher stock price for SCHW by the end of 2015.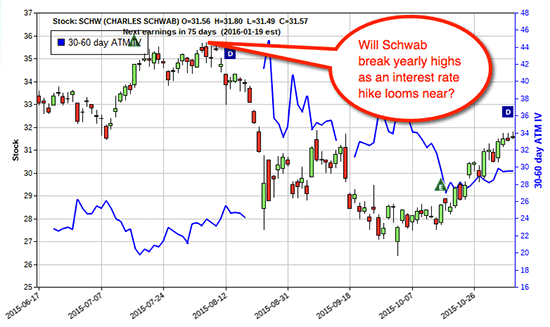 So let's take a look at one easy way of playing this rate hike to our advantage.
How to Collect Quick Profits on SCHW
This is an opportunity when I like to use call options. A call option is the right to buy a stock at a specified price by a specified date.
The following chart shows Friday's trading activity for the SCHW 33 calls with an expiration date of Jan. 15, 2016. The cost of these calls (as of Friday's quote) is mid-priced at $0.98.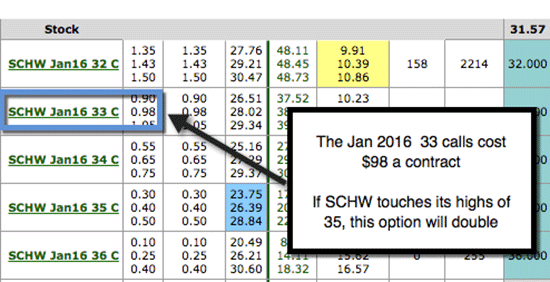 Each of these contracts above represents 100 shares of stock. That means if you could buy these calls at $0.98 right now, you would pay $98 a contract - only $98 to rent this stock between now and Jan. 15, 2016. SCHW trades around $33 right now - or $3,300 for 100 shares.
You could purchase the stock, if you want to hold it long-term because you think rate hikes will just keep coming. But think like a short-term trader for moment (like I do, which is why options make sense to me)...
With this SCHW call option, you get the ability to control $3,300 worth of stock for just $98 for the next two months.
That's much more appealing to me than buying the shares - and these three scenarios show what I mean:
Join the conversation. Click here to jump to comments…
About the Author
Tom Gentile, options trading specialist for Money Map Press, is widely known as America's No. 1 Pattern Trader thanks to his nearly 30 years of experience spotting lucrative patterns in options trading. Tom has taught over 300,000 traders his option trading secrets in a variety of settings, including seminars and workshops. He's also a bestselling author of eight books and training courses.