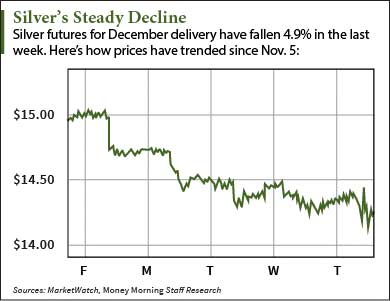 Silver prices today (Thursday) fell 0.2% as investors listen to speeches from U.S. Federal Reserve officials on monetary policy.
At 1:20 p.m., silver prices today traded at $14.24 per 5,000 troy ounces – the amount listed on each futures contract. Silver prices have logged losses every day this week and are down 4.9% since Nov. 5. Futures are down 8.5% in November so far.
The slight retreat in silver prices today comes as six Federal Reserve officials, including Chairwoman Janet Yellen, give speeches on U.S. monetary policy. Investors are listening for clues on whether the Fed will raise interest rates at next month's meeting on Dec. 15-16.
Hawkish statements can weigh on gold and silver prices because an interest rate hike boosts the U.S. dollar's appeal. That makes metals more expensive to buyers using other currencies.
While traders were confident the Fed wouldn't raise rates at the last two meetings, an interest rate hike seems much more likely in December. According to Money Morning Chief Investment Strategist Keith Fitz-Gerald, a rate hike next month is "a good bet."
Although a rate hike is widely expected, it's not guaranteed Yellen and company will actually go through with it. The Fed's decision will depend on market conditions leading up to the start of the meeting on Dec. 15. Postponing a rate hike until 2016 is still a distinct possibility.
If markets remain volatile and interest rates stay near zero, the dollar will remain in the low 90-point range. That will send the silver price on a long-term rally.
"Not raising rates is like rocket fuel for precious metals, and silver in particular," Money Morning Resource Specialist Peter Krauth said in September. "If the dollar continues to weaken, it will drive precious metals higher."
If the Fed raises rates next month, silver could see a short-term pullback. But we recommend holding on to the precious metal for the long term.
Here's why we're expecting huge gains for silver prices in 2016…
Alex McGuire is an associate editor for Money Morning who writes about commodities. Follow him on Twitter for the biggest silver updates, or like Money Morning on Facebook.
More Commodities Content: Natural gas prices declined to their lowest point in three years last month. This weakness, coupled with another bout of lower oil prices, is putting pressure on energy producers and the industry in general. But there are two specific ways you can play the current low prices to your advantage…