It's no secret that I like to zero in on the top 250 stocks in the market. And I've even shown you how to whittle those down to the 10 best stocks to trade at any given time.
But even then, that's a lot of data to digest. So you have to employ the best methods to assess which stocks are going to move the way you want them to - that is, profitably.
There's no shortage of stock charts out in the wild. These days, anyone can go on Yahoo! Finance or Stockcharts.com and pull up highly customizable charts for pretty much any stock trading on domestic markets.
There's so much information available it can be completely overwhelming, even if you've been trading for a while.
Today, I'm going to share with you my favorite type of stock chart and give you everything you need to start seeing your trades like a pro.
Let's get started...
Why I Favor Japanese Candlestick Stock Charts
Japanese candlesticks were created in the 18th century by an Osaka rice futures trader named Munehisa Homma. The foundation of his candlestick technical analysis was Sakata's Five Methods, which were patterns used by local traders from his home town of Sakata.
Japanese candlesticks have evolved and become more and more prevalent in the current day thanks to Steve Nison, who introduced them to the West.
Every chart you have seen from me has been a Japanese candlestick chart. Like many professional traders, I favor these charts because of the story they tell over and above your basic bar chart.
Both chart styles are similar in that they show what happened over the period of time each of them assesses. They both show the open, high, low, and close (O, H, L, C) of the period they represent (in fact, a bar chart can also be called an OHLC bar, since that is what it shows).
Either can represent a day, week, or month. On an intraday basis, they can represent a one-minute, five-minute, or hourly period of time.
But that's about where the similarities end...
The Construction of the Japanese Candlestick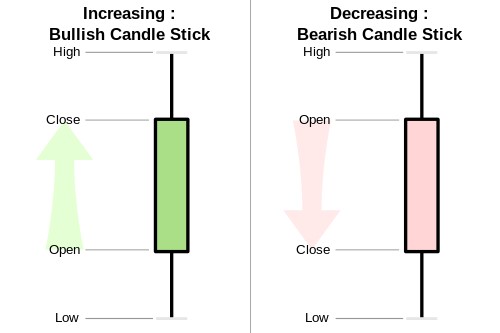 The opening and closing price of the period measured (which for our purposes here will be one day) make up what is called the candle body. The vertical lines on the top and bottom of the candle body are called the shadows, or the wicks.
If prices closed higher than the open, it is a bullish day and is usually represented by a white or green body. If prices closed lower than the open, it is a bearish day and is usually represented by a red body.
The size of the candle body and the size of the shadows (if any) are what give the various types of the candlesticks their unique names (think Inverted Hammer, Spinning Top, Doji, etc.). When two or more consecutive candlestick days form a specific visual pattern, those two- and three-day patterns have their own names and indicate potential future price moves in a stock.
Join the conversation. Click here to jump to comments…
About the Author
Tom Gentile, options trading specialist for Money Map Press, is widely known as America's No. 1 Pattern Trader thanks to his nearly 30 years of experience spotting lucrative patterns in options trading. Tom has taught over 300,000 traders his option trading secrets in a variety of settings, including seminars and workshops. He's also a bestselling author of eight books and training courses.