Today's election 2016 news looks at how one of Donald Trump's most controversial claims was actually correct, although exaggerated. Here's how Trump was vindicated:
Election 2016 News: Trump Claim Corroborated – The mainstream media bashed Republican presidential front-runner Donald Trump for his comments about "thousands and thousands" of Muslims celebrating on rooftops in New Jersey after 9/11. Many news outlets flat-out denied his claims, saying there was no news coverage of the incident, while others called for an apology on behalf of all American Muslims. In recent days since Trump's claims, Breitbart uncovered a CBS News segment shortly after 9/11 that discussed "swarms" of people celebrating on rooftops. The news segment even talked about several arrests being made. While Trump appears to have exaggerated the incident – as far as the evidence shows – he was correct in saying there were people celebrating 9/11 in New Jersey.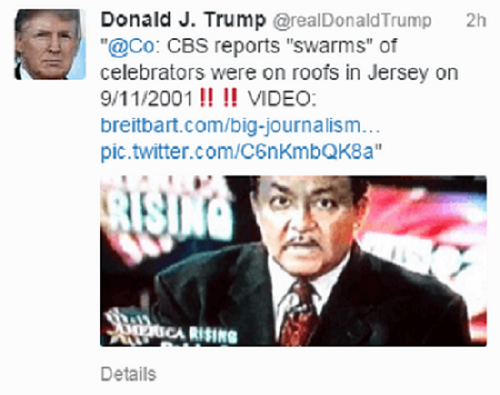 In Other Election 2016 News…
A top fundraiser for Republican presidential candidate Ben Carson quit because of his disagreements with the campaign's senior staff, according to The Wall Street Journal. Bill Millis told Carson Wednesday that he's leaving the campaign's three-man board. Millis expressed his support for Carson, saying he still believes Carson would make the best president, the WSJ reported. According to the WSJ, Millis' disagreements with the campaign included issues over priorities, the campaign's message, and its direction.
Republican presidential candidate Jeb Bush has spent the most out of any presidential candidate on campaign ads, but he's still only at single digits in nearly all election 2016 polls. The super PAC supporting his campaign, Right to Rise, has spent $30 million on television ads so far, yet the latest poll by Quinnipiac University pegs his Iowa support at just 4%, according to the WSJ. Bush's lagging support and inability to gain traction among voters has worried some of his major donors, the WSJ reported.
Democratic presidential front-runner Hillary Clinton called for a federal probe into Chicago's police department after the release of a video last week filming the death of a black teen who was shot by a white police officer. On Tuesday, Chicago Mayor Rahm Emanuel fired the police superintendent.
Many of the election 2016 presidential candidates quickly reacted to the mass shooting in San Bernardino, Calif. Here are some of their tweets shortly after the news broke: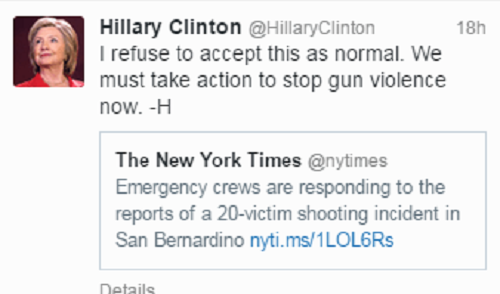 Stay tuned to Money Morning for more on the 2016 presidential election. You can follow our election 2016 news on Twitter @moneymorning or like us on Facebook.
Why We're Closing Our Bank Accounts While There's Still Time: If you think you can always get cash out of your bank account when you want it, you're wrong. Banks can restrict access to deposits – or confiscate them – and yet the general public has no idea these "laws" exist. Here's how this nightmare could impact you…