Last Thursday, we talked about "channeling," and I told you how you can use a stock's support and resistance levels to identify channels and better predict how a stock's price will behave.
To illustrate the point, I used a horizontal channel - that is, a stock that's trending sideways. It's the easiest type of channel to identify and use for options trades because you don't have to account for a stock that's trending up or down. So it was the perfect way to explain the basics.
But now it's time to tackle something a bit more advanced.
We're going to dig a bit deeper into channels today - there's a lot that you need to know in order to wield this technique effectively.
So let's get started...
The Channel's Strength Reveals the Length of Your Options Trades
Let's take a look at the "strength" of a channel and how that can impact your trading. When I say strength, I'm talking about a channel's reliability - that is, how likely a channel is to continue.
So how do you know how reliable a channel will be?
It depends on how many times a stock's price has touched and then bounced off its support and resistance levels. Here are some good rules to keep in mind:
One to two times: If the stock price has touched and bounced from support and resistance at least two times, the stock is trading in a channel. However, keep in mind this is a relatively unreliable channel. More aggressive traders might still want to trade this channel, while more conservative traders may want to wait for more confirmation of the trend.
Three to four times: This is a much more reliable channel, and most traders deem three to four touches of support or resistance enough confirmation to begin trading.
Five to six times: This is considered a strong channel and is deemed reliable. Even more conservative traders will want to begin trading.
More than six times: This is an extremely reliable channel.
Note that you will miss out on the trades you don't take depending on how reliable you require the channel to be.
The strength of a channel will help you determine the length of your options trade.
The best way to do that is to look for a mirrored move. If the price move between support and resistance takes 30 days on average, you should anticipate that it will continue to play out in that fashion.
You'll need 30 days on average for the price move that you're looking for, which means you can buy options with expiration dates beyond that 30-day range. That way, when the price makes its expected move, you're still in your (hopefully very profitable) trade.
Let's revisit Lennar Corp.'s (NYSE: LEN) horizontal channel. Here's the chart I showed you last Thursday: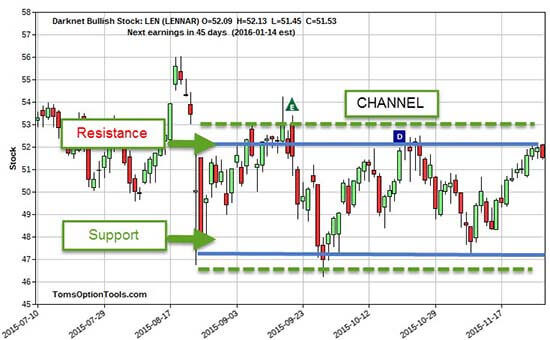 Last time, we decided that because the stock was sitting at resistance, we'd look to make a bearish move on LEN. So how many days does it take on average to make its move from resistance to support?
Join the conversation. Click here to jump to comments…
About the Author
Tom Gentile, options trading specialist for Money Map Press, is widely known as America's No. 1 Pattern Trader thanks to his nearly 30 years of experience spotting lucrative patterns in options trading. Tom has taught over 300,000 traders his option trading secrets in a variety of settings, including seminars and workshops. He's also a bestselling author of eight books and training courses.