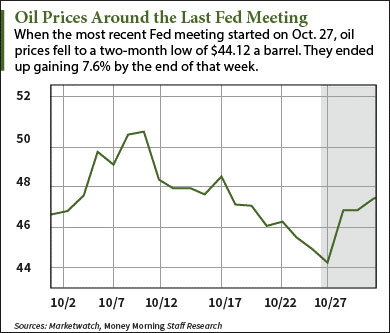 With crude oil prices trading at their lowest level since 2008, many investors are wondering if next week's Fed meeting will send them spiraling out of control.
Crude oil prices were extremely volatile during the last U.S. Federal Reserve meeting. When Janet Yellen and company last met on Oct. 27, WTI prices fell to a two-month low of $44.12. After the Fed decided to keep interest rates unchanged, prices immediately shot up 5.7% to $45.65. They ended up closing the week at $47.47.
Oil prices soared following the September announcement because rising interest rates increase the value of the U.S. dollar. When the dollar rises, dollar-denominated commodities like oil and silver suffer since they become more expensive to users of other currencies.
But hawkish sentiment is much stronger going into next week's Fed meeting thanks to a stellar November jobs report. On Dec. 4, the U.S. Bureau of Labor Statistics said the United States added 211,000 jobs last month. That smashed economists' expectations of 200,000 jobs. The unemployment rate was unchanged at 5%, which was in line with expectations.
The Fed views November's growth as proof the United States can withstand economic slowdowns in China and Europe. That means a rate hike will likely happen next week for the first time in almost 10 years.
But even if the Fed raises interest rates next week, it won't send crude oil prices to apocalyptic lows. According to Money Morning Global Energy Strategist Dr. Kent Moors, a rate hike may temporarily lower prices, but increasing demand and decreasing supply will lift them higher next year.
The International Energy Agency (IEA) predicts global oil demand will hit 95.6 million barrels a day in 2016. That's 1.5% more than the projected daily average for 2015. Demand will also be boosted by declining supply levels. The IEA predicts supply levels could be cut in half next year.
"Energy demand elements are emerging that far outweigh the significance of any Fed move," Moors said in September. "Because while the fixation on a rise in interest rates continues, aggregate expected global oil demand is moving up regardless."
Alex McGuire is an associate editor for Money Morning who writes about energy. Follow him on Twitter for all the biggest oil and gas updates.
Like us on Facebook: Money Morning
Capital Controls Are Here: If you think you can always get cash out of your bank account when you want it, you're wrong. Banks can restrict access to deposits – or confiscate them – and yet the general public has no idea these "laws" exist. Here's how this nightmare could impact you…