The Alibaba stock price is up 1% today (Wednesday) in early morning trading after Alibaba signed a multiyear agreement for DisneyLife.
The move fits into Alibaba's long-term expansion goals and is part of the reason we're so bullish on the Alibaba stock price in 2016.
Alibaba Group Holding Ltd. (NYSE: BABA) will now be able to create a subscription service for Walt Disney Co.'s (NYSE: DIS) Disney and Pixar movies. The subscription service will also include games, animated series, songs, travel services, and Disney resort information.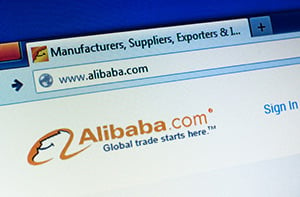 The one-year subscription will cost $125.
The Alibaba stock price is also up today because Alibaba has agreed to work with its rival, Tencent Holdings Ltd. (OTCMKTS: TCTZF), in a group bid for the Chinese film company Bona Film Group Ltd. (Nasdaq: BONA).
Bona Film has a market valuation of $781 million and was a backer of the Matt Damon film "The Martian," according to The Wall Street Journal.
This is big Alibaba news, and it follows recent aggressive attempts by Alibaba to be the dominate player in the Chinese video market...
In early November, Alibaba announced that it would buy Chinese video site Youku Tudou Inc. (NYSE ADR: YOKU) for $3.6 billion. Youku is known as the "Chinese YouTube" and boasts 580 million members, according to digital marketing company DMR.
The purchase of Youku was a strategic move to promote Alibaba's online retail site, storefronts, and other services. Youku Tudou has well-known Chinese video bloggers who are able to promote Alibaba's goods and services to their already built-in audiences.
But these acquisitions are just a small part of Chairman Jack Ma's plan for future success...
As Money Morning Executive Editor Bill Patalon puts it, "It's a 'transformational' type of company, meaning its leaders are 'planting seeds' right now that will have big future payoffs."
And Alibaba's contract with Disney and partnership with Tencent Holdings aren't the only reasons we're bullish on the Alibaba stock price heading into 2016...
[mmpazkzone name="in-story" network="9794" site="307044" id="137008" type="4"]
The Alibaba Stock Price Will Continue to Rise Because of Jack Ma's Leadership
Jack Ma wants Alibaba to do more than just operate as an e-commerce company...
Ma recently sent a letter to shareholders explaining his ultimate vision for Alibaba. In the letter, Ma stated, "Our key priorities for the next decade will be globalization, development of the rural economy, and Big Data."
In the last two years, Alibaba has purchased companies in industries ranging from entertainment, tech, and retail. Alibaba even purchased a 50% stake in China's most popular soccer team for $192 million in 2014, according to Bloomberg Business.
Patalon has praised Ma for his broad vision in gaining a foothold in cloud computing, entertainment, and media.
And Ma has earned Patalon's praise by showing his ability to anticipate demand and profit from it as far back as 2004.
Ma saw the flaws in the Chinese banking system in 2004, so Alibaba created the first customer-to-customer payment system known as Alipay. Ma's Alipay was soon processing roughly 50% of online Chinese e-commerce transactions, according to Forbes.
And in 2013, Alibaba extended its reach in the financial sector. Alibaba opened a money market product known as Yu'Bao, which offered customers better returns than banks.
One year after launching Yu'Bao, 100 million individuals had opened accounts with Alibaba's money market product.
Whether it's through banking or video streaming, Ma is successfully identifying opportunities for Alibaba to extend its reach and become a leader in a variety of growing industries.
But despite the growing success of Alibaba, the Alibaba stock price is still volatile...
Patalon warns investors can't approach BABA stock as a short-term investment.
"I knew that, as a hot IPO, there was every chance the stock could - and probably would - sell off," Patalon said.
But Patalon remains very bullish on the long-term outlook for the Alibaba stock price. He's gone as far as calling BABA a "legacy stock."
Investment research firm Zacks also provided long-term investors with good news on Nov. 2. The firm changed its "Hold" recommendation to "Buy" with a price target of $94.
At BABA's closing price of $82.49 yesterday, the Alibaba stock price is now up 21.3% from its IPO price of $68 per share.
The Bottom Line: Jack Ma's aggressive purchases are helping Alibaba turn into a leader in a variety of industries in China. The seeds Ma is planting now will have huge future payouts and will continue pushing the Alibaba stock price higher in 2016.
Follow us on Twitter @moneymorning or like us on Facebook.
China Just Opened Your Next Window of Opportunity: By scrapping its one-child rule, China's created a massive investment opportunity. This policy reversal will drive an historic shift in production and consumption that will double the size of China's economy by 2035. The time to act is now. Here's how to align your money for maximum profit...