Right before Christmas, I told you how you could cash in on the new "Internet economy," a market sector worth a combined $2.6 trillion.
We kicked things off with a look at the major trends driving a select group of five big-cap leaders to new heights.
I even revealed two members of this new Internet "Dream Team" - Alphabet Inc. (Nasdaq: GOOG, GOOGL) and Facebook Inc. (Nasdaq: FB).
Today I'm keeping my promise to tell you about the other three firms that are poised to hand tech investors steady gains, starting in January.
Each of these all-stars commands a growing slice of e-commerce, mobile transactions, and cloud computing.
So let's drill down and take a look at these other stocks to buy - and why you must have them in your portfolio...
Dream Team Player No. 3 - Amazon
It's hard to believe now, but Wall Street actually discouraged Jeff Bezos from launching Amazon Web Services (AWS) roughly a decade ago.
Analysts thought Amazon.com Inc. (Nasdaq: AMZN) should stick to its knitting as an online store.
But what Bezos knew, and the Wall Street crowd missed, was something called the "power of scale."
You see, for a company to build a complex infrastructure capable of handling thousands of simultaneous transactions would cost hundreds of millions of dollars.
Bezos's gut told him there was a big market for companies that would rather rent that pricey infrastructure from Amazon than build it themselves.
He was right. Today Amazon dominates a segment of the cloud-computing market known as Infrastructure-as-a-Service (IaaS). In fact, AWS is now the first choice of 57% of all IT professionals that use cloud-based services, according to Rightscale.com.
And a recent report from Goldman Sachs says AWS had a 36.9% share of its market in the third quarter, up 8.8% from the second quarter.
At its current growth rate - AWS grew sales by 78% in the third quarter to just over $2 billion - this will be a $12 billion business next year.
Even better, that dominating performance comes on top of the Amazon's existing status as the "King of E-Commerce." Net sales, most of it online transactions, increased 23% to $25.4 billion in the third quarter.
And Bezos is taking aim at a huge new market for AWS. This is the Internet of Everything - also known as the Internet of Things (IoT) - the more than 50 billion devices that will be connected to the web in the next few years.
To service this growing market, Bezos in October launched Amazon IoT, a service that allows clients to create cloud-based apps for web-connected devices. Still in beta testing, the new service charges U.S. customers $5 for every million messages sent from devices to Amazon IoT.
The firm says it can support "billions of devices and trillions of messages."
In other words, Bezos has once again broken ground for another multibillion-dollar web business.
Dream Team Player No. 4 - Apple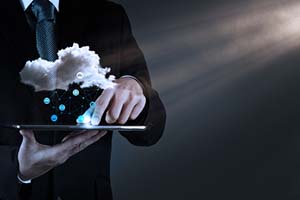 At first glance, Apple Inc. (Nasdaq: AAPL) looks like a hardware company.
After all, for its fiscal year ended Sept. 30, Apple sold more than 300 million devices around the world, including 55 million iPads and 21 million Macs.
Of course, the iconic iPhone is the behemoth here, selling 231 million units in just 12 months.
But don't focus too hard on those hardware sales. The iPhone is much more than a smartphone. It's really a portal into a fully integrated tech "ecosystem."
See, the iPhone connects seamlessly to all the other mobile devices in the Apple value chain - to the iPad, the new Apple Watch, and the MacBook. Apple even sells sophisticated Wi-Fi routers and range extenders that make it easy for you to connect together all of your iProducts.
Apple offers its iCloud service for storing and managing songs, videos, documents, and more. But it goes deeper than that.
The company has moved into music streaming, building on the huge success of its iTunes store. Last year, the store surpassed the 800 million mark in terms of registered users - and it continues to grow.
App sales form another key element in the ecosystem. People buy $2 billion in apps from Apple every month, a figure that is growing 50% annually. For simply hosting this network of users and developers, Apple gets to keep 30% of every sale.
Add it all up and you have a phone that is a portal into a world that provides you with news, data, productivity, and entertainment. Call it "Apple as a service."
Goldman Sachs notes that roughly 500 million people in the world own an iPhone, and those users spend an average of $42 per month on content.
By constantly adding content, Apple could in five years double that monthly figure, adding $42 billion to its top line.
In other words, Apple's brand of the mobile web is a license to print money.
Dream Team Player No. 5 - Microsoft
The turnaround in the cloud business segment at Microsoft Corp. (Nasdaq: MSFT) is nothing short of amazing.
Just three years ago, the company was basically a no-show in this fast-moving market. Such poor results in such a lucrative industry was reason enough for many investors to avoid Microsoft.
But that all began to change in February 2014 when Satya Nadella become CEO. He immediately set out to make cloud sales a hallmark of his leadership atop the world's largest PC software firm.
Over the past seven quarters, Microsoft has more than doubled its commercial cloud sales. Earlier this year, Nadella said the firm has a total cloud services run rate of $6.3 billion.
That's really just the beginning. Nadella is out to achieve annualized revenue from cloud services of $20 billion by June 2018.
It's ambitious but doable. Market Research Media forecasts annual compound growth in cloud sales of 30% through 2020 when total industry sales will be worth some $270 billion.
Data compiled by Goldman Sachs shows that Microsoft now ranks second in a segment known as the "public" cloud. Amazon is in first place with a 36.9% share, followed by Microsoft at 8.7%, which Goldman predicts will hit 17% in 2017 when Amazon's will be 59%.
In other words, Microsoft is growing its share of the public cloud space almost twice as fast as Amazon is growing its share.
Finally, "Team Nadella" has some power hitters doing a lot of his heavy lifting these days.
On Dec. 1, Hewlett Packard Enterprise (NYSE: HPE) announced a cloud partnership with Microsoft. Under the deal, HPE's clients can host data and applications on Microsoft's Azure cloud platform. No financial terms were disclosed.
The HPE deal follows a pact Microsoft reached with Dell in October. The two announced the new Cloud Platform System Standard, a package of Microsoft cloud software designed to be deployed on Dell's servers.
Built to Last
To be sure, the five members of our new Internet "Dream Team" compete with each other to some extent.
However, all five have achieved all-star status by clearly staking out their very own niches - and raking in the cash.
I believe that all five of these firms - the three I outlined today plus Apple and Facebook - can form the basis for a solid tech investing portfolio.
In other words, they're not just great plays for 2016. They're the kind of companies you can count on for the long haul.
[mmpazkzone name="in-story" network="9794" site="307044" id="137008" type="4"]
And be sure to join our next conversation. I'll be telling you about five stocks to avoid in 2016.
Follow us on Twitter @moneymorning or like us on Facebook.
Three Tech Investing Cash Cows: These "Dream Team" companies are already web giants, but their specialization in key Internet segments will spark even greater profits. These three sectors are worth a combined $2.6 trillion today - and are set to grow 2,400% over the next decade...
About the Author
Michael A. Robinson is a 36-year Silicon Valley veteran and one of the top tech and biotech financial analysts working today. That's because, as a consultant, senior adviser, and board member for Silicon Valley venture capital firms, Michael enjoys privileged access to pioneering CEOs, scientists, and high-profile players. And he brings this entire world of Silicon Valley "insiders" right to you...
He was one of five people involved in early meetings for the $160 billion "cloud" computing phenomenon.
He was there as Lee Iacocca and Roger Smith, the CEOs of Chrysler and GM, led the robotics revolution that saved the U.S. automotive industry.
As cyber-security was becoming a focus of national security, Michael was with Dave DeWalt, the CEO of McAfee, right before Intel acquired his company for $7.8 billion.
This all means the entire world is constantly seeking Michael's insight.
In addition to being a regular guest and panelist on CNBC and Fox Business, he is also a Pulitzer Prize-nominated writer and reporter. His first book Overdrawn: The Bailout of American Savings warned people about the coming financial collapse - years before the word "bailout" became a household word.
Silicon Valley defense publications vie for his analysis. He's worked for Defense Media Network and Signal Magazine, as well as The New York Times, American Enterprise, and The Wall Street Journal.
And even with decades of experience, Michael believes there has never been a moment in time quite like this.
Right now, medical breakthroughs that once took years to develop are moving at a record speed. And that means we are going to see highly lucrative biotech investment opportunities come in fast and furious.
To help you navigate the historic opportunity in biotech, Michael launched the Bio-Tech Profit Alliance.
His other publications include: Strategic Tech Investor, The Nova-X Report, Bio-Technology Profit Alliance and Nexus-9 Network.