Right before Christmas, I told you how you could cash in on the new "Internet economy," a market sector worth a combined $2.6 trillion.
We kicked things off with a look at the major trends driving a select group of five big-cap leaders to new heights.
I even revealed two members of this new Internet "Dream Team" – Alphabet Inc. (Nasdaq: GOOG, GOOGL) and Facebook Inc. (Nasdaq: FB).
Today I'm keeping my promise to tell you about the other three firms that are poised to hand tech investors steady gains, starting in January.
Each of these all-stars commands a growing slice of e-commerce, mobile transactions, and cloud computing.
So let's drill down and take a look at these other stocks to buy – and why you must have them in your portfolio…
Dream Team Player No. 3 – Amazon
It's hard to believe now, but Wall Street actually discouraged Jeff Bezos from launching Amazon Web Services (AWS) roughly a decade ago.
Analysts thought Amazon.com Inc. (Nasdaq: AMZN) should stick to its knitting as an online store.
But what Bezos knew, and the Wall Street crowd missed, was something called the "power of scale."
You see, for a company to build a complex infrastructure capable of handling thousands of simultaneous transactions would cost hundreds of millions of dollars.
Bezos's gut told him there was a big market for companies that would rather rent that pricey infrastructure from Amazon than build it themselves.
He was right. Today Amazon dominates a segment of the cloud-computing market known as Infrastructure-as-a-Service (IaaS). In fact, AWS is now the first choice of 57% of all IT professionals that use cloud-based services, according to Rightscale.com.
And a recent report from Goldman Sachs says AWS had a 36.9% share of its market in the third quarter, up 8.8% from the second quarter.
At its current growth rate – AWS grew sales by 78% in the third quarter to just over $2 billion – this will be a $12 billion business next year.
Even better, that dominating performance comes on top of the Amazon's existing status as the "King of E-Commerce." Net sales, most of it online transactions, increased 23% to $25.4 billion in the third quarter.
And Bezos is taking aim at a huge new market for AWS. This is the Internet of Everything – also known as the Internet of Things (IoT) – the more than 50 billion devices that will be connected to the web in the next few years.
To service this growing market, Bezos in October launched Amazon IoT, a service that allows clients to create cloud-based apps for web-connected devices. Still in beta testing, the new service charges U.S. customers $5 for every million messages sent from devices to Amazon IoT.
The firm says it can support "billions of devices and trillions of messages."
In other words, Bezos has once again broken ground for another multibillion-dollar web business.
Dream Team Player No. 4 – Apple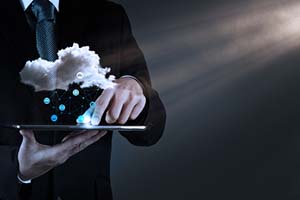 At first glance, Apple Inc. (Nasdaq: AAPL) looks like a hardware company.
After all, for its fiscal year ended Sept. 30, Apple sold more than 300 million devices around the world, including 55 million iPads and 21 million Macs.
Of course, the iconic iPhone is the behemoth here, selling 231 million units in just 12 months.
But don't focus too hard on those hardware sales. The iPhone is much more than a smartphone. It's really a portal into a fully integrated tech "ecosystem."
See, the iPhone connects seamlessly to all the other mobile devices in the Apple value chain – to the iPad, the new Apple Watch, and the MacBook. Apple even sells sophisticated Wi-Fi routers and range extenders that make it easy for you to connect together all of your iProducts.
Apple offers its iCloud service for storing and managing songs, videos, documents, and more. But it goes deeper than that.
Join the conversation. Click here to jump to comments…
About the Author
Michael A. Robinson is one of the top financial analysts working today. His book "Overdrawn: The Bailout of American Savings" was a prescient look at the anatomy of the nation's S&L crisis, long before the word "bailout" became part of our daily lexicon. He's a Pulitzer Prize-nominated writer and reporter, lauded by the Columbia Journalism Review for his aggressive style. His 30-year track record as a leading tech analyst has garnered him rave reviews, too. Today he is the editor of the monthly tech investing newsletter Nova-X Report as well as Radical Technology Profits, where he covers truly radical technologies – ones that have the power to sweep across the globe and change the very fabric of our lives – and profit opportunities they give rise to. He also explores "what's next" in the tech investing world at Strategic Tech Investor.