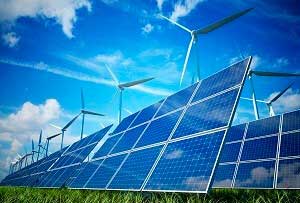 Solar ETFs outperformed other energy exchange-traded funds by a huge margin last quarter.
The Guggenheim Solar ETF (NYSE Arca: TAN), which holds 25 American and Chinese solar companies, gained 15.4% from Sept. 31 to Dec. 31, 2015. That beats the popular United States Oil ETF (NYSE Arca: USO) and U.S. Natural Gas Fund (NYSE Arca: UNG) by a staggering 40.5% and 40.7% over the same period, respectively.
Better yet, the 103 solar stocks listed on the Bloomberg Global Solar Energy Index beat the Dow Jones Industrial Average by 12% during the fourth quarter.
Money Morning Global Energy Strategist Dr. Kent Moors says 2016 will be an even better year for solar ETFs and the global solar energy industry as well.
"Solar is here to stay," Moors said last month. "There's now a confluence of technology and economy that assures these new energy sources will continue to be adopted and improved upon - at ever-increasing rates."
And there's one important trend that will continue to drive solar ETFs higher in 2016...
Why You Should Invest in Solar ETFs in 2016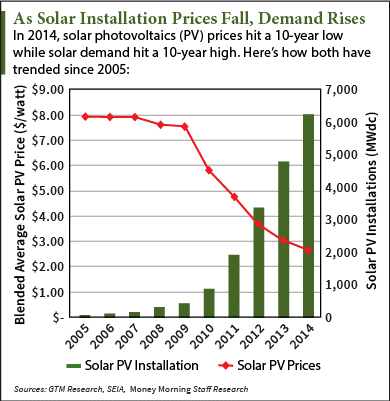 The biggest reason solar stocks will continue to profit in 2016 is soaring demand outside of the United States.
You see, the U.S. makes up a large portion of solar energy demand. The Solar Energy Industries Association (SEIA) said the number of solar panels installed in the United States increased 30% from 2013 to 2014.
But demand is now growing faster than ever on the global scale. That's because the average price of a solar panel has fallen by more than 60% since 2011 due to their increasingly efficient production.
In fact, China is projected to spend $83 billion on solar energy projects in 2016 thanks to the government's new panel installation quota. China's Xinhua News Agency reported the country's goal is to install 20 gigawatts worth of solar panels over the next four years.
"Solar power is currently booming all over the world," Moors explained. "In the United States, a solar project is completed every two minutes - and in China, the pace is even faster."
But there's another country in Asia that's investing $17 billion more in its solar energy future in 2016...
Solar ETFs in 2016 Will Rise Thanks to China and This Country
India is taking the biggest initiative for solar power this year due to its rundown electrical grid.
In fact, the country has been chronically short on power for decades now. According to Bloomberg, India has missed every annual target to increase electricity production capacity over the last 60 years. On July 30, 2012, the country's grid collapsed and caused the single largest blackout in history, leaving 700 million people without power.
The Indian government is investing $100 billion to install 100 gigawatts of solar capacity through 2022 - up from the nation's current capacity of four gigawatts.
According to Moors, solar ETFs are the best way to both tap into this global shift and cast a wide net over booming solar companies.
"While it may be difficult to pick out the winners at this early stage, these are a much simpler, less risky way of tapping into the global solar boom," Moors said. "And as the fastest growth in solar power is happening in Asia, investors should focus on funds with significant holdings in China, India, and beyond."
An example of a fund with a large number of Asian and American holdings is the Market Vectors Solar Energy ETF (NYSE Arca: KWT). The fund tracks 30 global solar panel producers from the United States, China, India, Taiwan, and Germany. KWT rose 16.3% last quarter.
The Bottom Line: Solar ETFs allow investors to hold a basket of growing solar stocks without picking just one or two specific solar companies. As solar demand in Asia experiences a record year in 2016, solar ETFs will be the best way to profit from the exciting growth.
Follow the author on Twitter: @AlexMcGuire92
Like us on Facebook: Money Morning
China Just Opened Another Window of Opportunity: By scrapping its one-child rule, China's created a massive investment opportunity. This policy reversal will drive an historic shift in production and consumption that will double the size of China's economy by 2035. The time to act is now. Here's how to align your money for maximum profit...