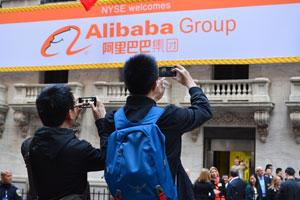 The BABA stock price today (Monday) is down 1.15% in intraday trading, as investors continue to worry about large drops in the Chinese stock market.
Alibaba stock is now down 12.99% in 2016. The BABA stock price was also volatile in 2015, peaking at $105.30 on Jan. 8 and closing as low as $57.39 per share in September.
Investors fear that there is no end in sight for the Chinese stock market crash, which is part of the reason U.S. indexes are also down this year. The Dow Jones Industrial Average has slipped 5.87%, and S&P 500 has fallen 5.71% in 2016.
Slower economic growth and a devaluation of currency has led to the volatility in the second-largest world economy. Key economic reports showed that China's services sector is at its weakest growth pace in 17 months, and China's central bank set the value of the yuan at its weakest level since March 2011 in early January.
But the fear has created a discounted entry point for investors to add positions in what Money Morning Executive Editor Bill Patalon calls a "legacy stock." In fact, Patalon says Alibaba stock is a stock you want to hold forever.
You see, investors who are worrying about the Chinese economy's impact on Alibaba stock are overlooking some major points, including:
Alibaba Group Holding Ltd. (NYSE: BABA) has aggressively acquired companies to dominate the Chinese online video market, which is a market iResearch projects will be worth $8 billion in 2016.
In the first eight minutes of the Chinese holiday "Singles' Day" in 2015, shoppers spent more than $1 billion across Alibaba's network of e-commerce sites. At the end of the day, Alibaba reported $14.3 billion in gross merchandise volume (GMV).
Alibaba has increased revenue year over year since 2012.
Alibaba is growing itself into a global company with new ventures within the United States.
Under the leadership of Chairman Jack Ma, Alibaba will continue to increase its revenue and reward long-term BABA shareholders.
Ma has a specific vision for Alibaba. And that vision will be the biggest catalyst for the BABA stock price in 2016 ...
Why Today's BABA Stock Price Is a Great Buy-In Point
In a letter to shareholders on Oct. 8, Jack Ma shared his ultimate vision for Alibaba.
In the letter, Ma stated, "Our key priorities for the next decade will be globalization, development of the rural economy, and Big Data."
And Alibaba's globalization efforts mean the Alibaba stock price will not be directly tied to the performance of China's economy.
You see, Ma has a goal for Alibaba to record 50% of its sales from outside of China, according to Bloomberg Business.
Alibaba plans to partially accomplish this through its services AliExpress and Tmall Global. AliExpress, launched in 2010, is a marketplace for consumers outside of China to buy Chinese goods. Tmall Global was launched in 2014 and gives companies a way to sell to Chinese consumers without having a China business license.
But Alibaba's biggest move outside of China is its growth in the Big Data industry.
Forbes projects that cloud applications will account for 90% of worldwide mobile data traffic by 2019 and that the global Software-as-a-Service market (SaaS) will grow to $67 billion in 2018 from $59 billion in 2015.
In March 2015, Alibaba created its first cloud-computing business in the United States, which was quickly followed by a second branch in October.
In a press release from Oct. 9, Alibaba stated that the second data center addressed the increased demand for affordable and secure cloud computing for customers in the West. Alibaba's cloud-computing data centers will help reduce the cost of cloud services and Big Data analytics for innovative companies and startups, according to the press release.
Alibaba currently has data centers in Beijing, Hangzhou, Hong Kong, Shenzhen, and Shanghai, and Ma has plans to build centers in the Middle East and Europe.
Alibaba's globalization and focus on providing Big Data make it a stock that will reward long-term investors. The BABA stock price is up over 2% from its IPO price of $69 per share.
The Bottom Line: Wall Street may still view Alibaba as an e-commerce site that only operates in China, but pundits are missing the bigger picture. Alibaba is increasing its sales internationally through AliExpress and Tmall Global. It's also building a large foothold in the growing market of Big Data, an industry that will be worth $67 billion in 2018. Alibaba's home base may be in China, but the BABA stock price will no longer be tied directly to the performance of the Chinese stock market.
Jack Delaney is an associate editor for Money Morning. You can follow him on Twitter and follow Money Morning on Facebook.
Capital Controls Are Here: If you think you can always get cash out of your bank account when you want it, you're wrong. Banks can restrict access to deposits - or confiscate them - and yet the general public has no idea these "laws" exist. Here's how this nightmare could impact you...