The best penny stocks of the week all posted double-digit gains last week, even as the broader markets all experienced a major sell-off. In fact, the top penny stock of the week posted a gain of 81%, while the Dow Jones dropped more than 2.2%.
Investors are always on the lookout for the best penny stocks because they can post triple-digit profits in a short period of time. Last week was the perfect example of how lucrative penny stocks can be for investors.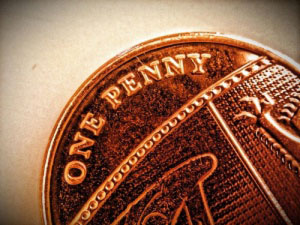 But penny stock investing can also be very volatile. That's why Money Morning experts advise that penny stocks should only represent a small percentage of any portfolio. And one stock should never account for more than 2% of your investing capital.
Money Morning Chief Investment Strategist Keith Fitz-Gerald says the key to finding the best penny stocks in 2016 is no different than finding other great investing opportunities. You need to know what to look for and have the right risk tolerance and perspective.
Here are the five best penny stocks this week and why they've brought investors huge gains…
Best Penny Stocks No. 1: VirnetX Holding (NYSEMKT: VHC)
VirnetX Holding Corp. (NYSEMKT: VHC) is a Nevada-based company that develops software and technology solutions for securing real-time communications over the Internet. In November 2015, its Gabriel Collaboration Suite became available on all major operating systems, including iOS, Android, Windows, Mac OS X, and Linux. Gabriel is an integrated suite of secure communication applications featuring secure mail, messaging, voice, video, and share and sync. Shares spiked Jan. 12 when the company announced it will present its patent infringement lawsuit against Apple Inc. (Nasdaq: AAPL) in court on Jan. 25. VHC shares closed up $1.77 to $3.94 last week, a meteoric weekly gain of 81.6%. That makes it the best penny stock of the week.
Continue reading for the rest of this week's best penny stocks…
Best Penny Stocks No. 2: Silicon Graphics (Nasdaq: SGI)
Silicon Graphics International Corp. (Nasdaq: SGI) is a California-headquartered company that develops, markets, and sells various servers, enterprise-class storage hardware, and differentiating software and solutions worldwide. Shares jumped last Monday when the company issued upside preliminary guidance for its fiscal second quarter ended December 2015. SGI sees earnings per share (EPS) coming in at $0.12 to $0.14, which is much better than analysts' EPS estimates of $0.03. Revenue is projected to come in at $150 million to $152 million, versus consensus estimates of $140.11 million. SGI reports earnings Jan. 27 after the close. Shares ended last week at $6.90, up $2.18, or a whopping 46.2%.
Best Penny Stocks No 3: Alon Blue Square (NYSE: BSI)
Alon Blue Square Israel Ltd. (NYSE: BSI) operates as a retail company in Israel. Its fueling and commercial sites segment develops and operates vehicle fueling stations, adjacent commercial centers, and independent convenience stores. It also markets fuel and other products through filling stations and convenience stores. On Jan. 14, the company announced it had received an offer from Big Shopping Centers Ltd. (TLV: BIG) and Mega Or Holdings Ltd. (TLV: MGOR). Both are Israeli companies traded on the Tel Aviv Stock Exchange, and they offered to purchase 53.8% of the outstanding shares of Blue Square Real Estate Ltd. (TLV: BLSR) held by BSI. The company hasn't decided whether to sell its BSLR interest. Shares ended last week at $5.39, up $1.53, or a hefty 40.6%. That puts BSI at No. 3 on our list of best penny stocks this week.
Best Penny Stocks No. 4: Lincoln Educational Services (Nasdaq: LINC)
Lincoln Educational Services Corp. (Nasdaq: LINC) is a New Jersey-based company that provides various career-oriented post-secondary education services in the United States. It offers degree and diploma programs in five principal areas of study, including automotive technology, health sciences, skilled trades, hospitality services, and business and information technology. These are offered to recent high school graduates and working adults. Shares jumped Friday after competitor Apollo Education Group Inc. (Nasdaq: APOL) rose 12% amid news it's exploring strategic alternatives. LINC could also attract interest should it explore changes. In November, LINC reported Q3 EPS of $0.11, trouncing estimates by $0.25. LINC ended last week at $2.66, a weekly gain of 26.1%.
Best Penny Stocks No. 5: Skyline (NYSEMKT: SKY)
Skyline Corp. (NYSE: SKY) is an Indiana-based company founded in 1951. It designs, produces, and markets manufactured housing, modular housing, and park models to independent dealers and manufactured housing communities in the United States and Canada. On Jan. 14, the company reported Q4 2015 EPS of $0.20 and net income of $1.7 million. It was the company's most profitable quarter since Q4 2007. Management also provided an upbeat outlook for FY2016. Shares finished last week up $0.90 to $4.60, a 24.3% gain.
Stay informed on what's going on in the markets by following us on Twitter @moneymorning or liking us on Facebook.
The Gold Mining Revolution: Technological advancements in gold mining have been stagnant, but one tiny Canadian company is about to change that. Its special extraction method will slash production costs and send gold prices soaring. In fact, this nano cap could disrupt the entire industry…