Amazon.com Inc. (Nasdaq: AMZN) posted a big earnings miss yesterday (Thursday), and the Amazon stock price dropped more than 15% today to an intraday low of $570.
Panicked investors are missing a major reason to remain bullish on the Amazon stock price even though earnings disappointed.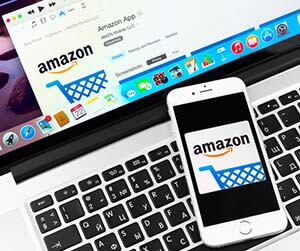 But first, here's why the Amazon stock price is dropping today...
After Thursday's close, Amazon posted Q4 2015 earnings per share (EPS) of $1, more than double the year-ago quarter. Still, that was well short of the $1.58 EPS analysts were expecting. Revenue of $35.7 billion was also shy of forecasts for $35.9 billion.
For the full year, Amazon exceeded $100 billion in revenue for the first time in its 20-year history. It took rival Wal-Mart Stores Inc. (NYSE: WMT) 35 years to reach that same milestone.
But results from Amazon's lucrative Web Services (AWS) unit were mixed. The unit rents computing power to other companies from a multitude of servers and has a commanding lead on competitors. It posted a 69% surge in sales to $2.4 billion during the quarter. Operating profit in the unit nearly tripled to $687 million. But AWS's revenue growth was 78% slower than in the previous quarter.
As Amazon prepares to debut new initiatives, like same-day and drone deliveries, costs are rising.
Operating costs rose 20.5% to $35.6 billion from $28.7 billion last year. Shipping is one of Amazon's biggest attractions, yet it's also one of its biggest expenses. As a percentage of sales, shipping costs jumped to 12.5% from 10.9% year over year (YOY).
Guidance for Q1 2016 was mostly in line with analysts' projections. Amazon said it expects to make $26.5 billion to $29 billion in sales for the current quarter. The company sees YOY growth up between 17% and 28%. The consensus estimates are for sales of $27.7 billion.
While today's drop in the Amazon stock price has some investors panicked, we've found one major catalyst that will move AMZN stock following today's drop...
Why Amazon Stock Prices Will Climb in 2016
Amazon stock was the top performer in the broad-based S&P 500 Index during 2015. And even with today's drop, the Amazon stock price is up 84% in the last 12 months.
Shares more than doubled in 2015, climbing a blistering 122%. Driving the Amazon stock price was it Prime membership, which offers two-day shipping for a $99 annual fee.
Amazon has become the one-stop, go-to retailer for customers wanting convenience, competitive prices, and quick delivery. It's come a long way from its original roots as an online bookstore.
And Money Morning Defense & Tech Specialist Michael A. Robinson credits the vision of CEO Jeff Bezos for turning Amazon into the retail titan it is today.
"Analysts thought Amazon.com should stick to its knitting as an online store," Robinson said last month. "But what Bezos knew, and the Wall Street crowd missed, was something called the 'power of scale.'"
Since that time, Bezos has turned Amazon into a retail powerhouse. In July 2015, Amazon surpassed Wal-Mart as the world's largest retailer by market value.
But Amazon is much more than a retailer...
Amazon is a leader in web services and cloud computing. It's a formidable competitor in the entertainment space thanks to its streaming business. And it's at the forefront of technology with ventures including delivery by drone and the Internet of Things (IoT).
"Bezos has once again broken ground for another multibillion-dollar web business," Robinson told his Strategic Tech Investor readers.
While a number of analysts lowered their price targets on Amazon following Q4 results, we remain upbeat on the Amazon stock price.
At $577.81, the Amazon stock price is down 14.51% year to date. That coincides with an 8.6% drop for the Nasdaq during the same time.
Amazon stock may remain volatile in the short term because of the broader market's volatility, but for long-term investors, Bezos' vision for the company is encouraging.
Stay informed on what's going on in the markets by following us on Twitter @moneymorning or liking us on Facebook.
The End of the Petrodollar: Since 1973, the global oil market has operated by the "petrodollar" system, wherein exports around the world are priced in U.S. dollars. Now foreign oil deals are threatening to dismantle that system. What they plan to put in its place could destroy the U.S. dollar, ultimately leading to total economic collapse...
Related Articles: