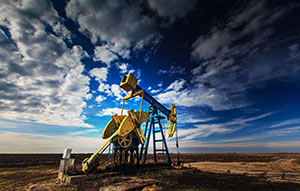 The drop in oil prices over the last year has cost oil companies billions of dollars. The two largest U.S. oil companies - Chevron Corp. (NYSE: CVX) and Exxon Mobil Corp. (NYSE: XOM) - lost a combined $18 billion in market cap in December alone.
But there's one company banking huge profits from oil's free fall. In fact, it just posted a 14% increase in revenue thanks to the volatile commodity. And with oil prices down 16.9% since the start of the year, the company's revenue is on track for another double-digit climb this quarter.
First, here's why oil prices are so volatile right now...
Why Oil Prices Have Fallen 15.4% in 2016
The sharp drop in WTI crude oil prices comes from fears of a slowdown in China - the world's second-largest economy.
You see, the country's Shanghai Index has plunged 21.4% so far in 2016. It currently sits at a 15-month low. The Hong Kong-based Hang Seng Index has tumbled 12.5% to its lowest level since June 2012.
As the second-largest energy consumer in the world, China's struggling economy indicates decreasing demand. This problem became clear in November when oil imports fell by 218,000 barrels per day to a 20-month low. Overall demand that month hit 732,000 barrels per day - down 9.9% from the same month in 2014.
China's turmoil is also sending the broader markets lower. According to Money Morning Global Energy Strategist Dr. Kent Moors, falling oil prices have pushed oil companies to make huge capital expenditure (capex) cuts. That's led to overall selling pressure since oil capex makes up a huge fraction of investment in the economy as a whole.
"Depending on which figures you accept, oil companies can account for as much as a third of capital expenditure (capex) among S&P 500 companies, while the oil industry workforce accounts for just a fraction of the national total," Moors said yesterday.
But one kind of oil company doesn't need to cut costs. In fact, they're making a killing right now.
As crude oil prices fell 22% during the last two months of the year, for example, this one firm pulled in $180 million in revenue...
This Company Is Profiting from Low Oil Prices
On Jan. 29, Tullett Prebon Plc. (LON: TLPR) - one of the largest brokerage firms in London - posted 125 million pounds (or $179.5 million) in revenue in November and December.
You see, Tullett is one of many brokers reaping huge benefits from the recent commodity volatility. Oil, silver, and gold futures continue to see price fluctuations, which means they're constantly trading in huge volumes. Companies like Tullett make these trades possible and earn a percentage from each one.
But Tullett is largely benefiting from PVM Oil Associates, one of the largest independent traders of oil futures in the world. In November 2014, Tullett bought PVM for $160 million due to declining revenue.
PVM has become the broker's most profitable asset. It was a massive contributor to Tullett's full-year revenue of 796 million pounds ($1.16 billion) last year - a 13% increase from 2014. If PVM's revenue wasn't included, Tullett's total revenue would have actually seen a 2% decline.
As of Feb. 4, shares of Tullett trade at $322.10. The stock is down 13.4% in 2016, but we expect shares of TLPR to see short-term gains as the company sees more revenue growth from energy volatility.
And as a Money Morning Member, you can profit from these short-term gains...
When you sign up for Money Morning membership, you are eligible for one free international trade and 20 domestic trades through EverTrade Direct Brokerage. This Money Morning membership perk allows you to buy and sell stocks once you open an EverTrade account.
Since Tullett stock lists on the London exchange, you can use your free international trade to bank overseas profits.
Here's everything you need to know about this exclusive Money Morning membership deal - and the several other free benefits you'll receive...
Alex McGuire is an associate editor for Money Morning who writes about energy. Follow him on Twitter for all of the biggest oil and gas updates.
Like us on Facebook: Money Morning
The Real Reason Oil and Stocks Are Moving Together... Oil prices and the stock market are currently joined at the hip. When oil dives, stocks go down with it. But no one quite understands the cause of this relationship. Here are four myths investors are associating with the phenomenon - and why they're dead wrong...