Back in the summer of 2008, I told my hedge fund clients to sell everything. That saved them a ton of cash.
Then in the following March, I published a front-page article predicting an "oncoming and unexpected bull stampede." And that made people a lot of money.
In August 2015, I predicted a mighty steep drop in stocks ahead, and then in December, I warned about what would happen in January.
That got people out of this sell-off's way (and it made my Short-Side Fortunes readers some "easy" money, too).
Each one of those calls was the right one, and today, I'm here to tell you I see a dangerous situation shaping up.
That's because, right now, the signs are telling me that the next global recession is coming soon.
Here's what I'm looking at...
Scary Warning Signs Are Lit All Over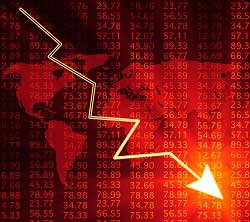 A recession is very simply defined as two consecutive quarters of negative economic growth.
In the real world, nation-states that experience negative growth over longer periods, interrupted by occasional paltry-positive readings of GDP are, for all intents and purposes, in a recession.
Countries now in recession include: Greece, Belgium, Italy, Portugal, Netherlands, Czech Republic, Venezuela, Brazil, Russia, Taiwan, and as of Monday, Ireland.
I believe the United States is closer than anyone realizes to joining them.
The U.S. saw a mere 0.7% annualized GDP growth rate in the fourth quarter of 2015.
On the other hand, for all of 2015, the country turned in an estimated 2.4% growth rate, so it doesn't appear close to falling into recession.
But those figures are deceiving, and a whole host of recession barometers, like industrial production, consumer spending, and stock prices as a reflection of sales and earnings, are dialing higher and higher.
There's a saying on all our cars: "Objects in the mirror may be closer than they appear." But as far as the U.S. economy is concerned, those objects are filling up the windshield.
Industrial production in the United States showed negative readings in 10 out of the last 12 months. It's down 3% in the last six months alone.
What's more, the Institute for Supply Management (ISM) Purchasing Managers' Index just came in at 48.2.
That's four months in a row the index has been below 50 - and a reading below 50 points to contraction in U.S. manufacturing.
The January ISM report additionally says customers' inventories are "Too High," the backlog of orders is "Contracting," that exports are "Contracting," and prices are "Decreasing."
But don't take my word for it: Willard D. Oberton, Chief Executive Officer of Fastenal Co. (Nasdaq: FAST), North America's largest fastener manufacturer and a major supplier to other businesses, this month repeated that "the industrial segment of the U.S. economy is in the midst of a recession."
And CSX Corp. (Nasdaq: CSX) CEO Michael J. Ward, who was trying to explain why his company's shares had fallen to two-year lows, said demand will drop amid a "freight recession" of decreasing coal carloads and slackening international demand.
The American Consumer Won't Ride to the Rescue
Don't expect consumption to spur growth, either. In spite of the apparent growth of jobs headline unemployment down to 5%, U.S. consumers, responsible for around three-quarters of GDP growth, aren't stepping up.
According to the U.S. Commerce Department, personal spending in December was flat from a month earlier. Spending on durable goods, meant to last at least three years, fell 0.9% in December. And spending on nondurable goods also fell 0.9%.
Those numbers mean the end retailers' most important quarter - and a true picture of consumers' propensity for spending - has been a disaster.
It's not hard to see why... Those consumers' wages have only increased 2.2% in the past five years.
It gets worse...
For all of 2015, retail sales - including autos - were the worst since 2008-2009.
When you consider that anemic wage growth, rising healthcare costs courtesy of Obamacare, and an uptick in the savings rate to 5.5%, it's highly unlikely that still-deleveraging consumers will prove positive for GDP growth in 2016.
And then there's the stock market, or should I say, stock markets.
LIRP, ZIRP, and NIRP Helped Bring Us Here
Now, it's important to note that not all steep market sell-offs signal a recession ahead. But this time around, frighteningly, that's exactly what they're doing...
The January 2016 sell-off in U.S. stocks followed global equity markets getting hit last summer through year-end 2015. Now we're all headed lower.
Selling isn't the result of a valuation correction: What's happening is investors are selling over fears of falling earnings - or an outright collapse.
The root cause of global market volatility, and why the equity markets' selling off portends a coming global recession, is all about currencies.
The currency market is the largest market in the world. Trillions of dollars of currencies trade every single day, dwarfing the volume of all the world's equity markets, combined.
That's because currencies are used to buy goods and services the world over, and as global trade has grown, more and more trading is necessary to make payments in different currencies.
Currencies don't just move up and down based on short-term buying and selling based on daily trade transactions. They mostly move up and down relative to each other based on interest rate differentials between countries.
And interest rate differentials are now the "last stand" for central bankers whose low-interest, zero-interest, and negative-interest rate policies have done nothing to keep staggering economies from slip-sliding back towards recession.
Raging Currency Wars Will Make Things Worse
By managing their currencies down, exporters cheapen the cost of the goods and services they sell globally.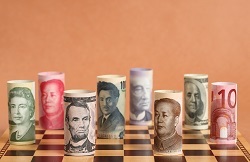 With the sole exception of the United States, which has the largest domestic consumer economy in the world and is still an export juggernaut, almost every country in the world relies on exports to propel growth.
But when lowered interest rates, which cheapen a country's currency relative to its trading partners, are met with counter-party interest rate cuts, trading partners and exporting competitors have nowhere to go - and nothing to do but to try and keep lowering interest rates.
When countries compete to lower rates to spur exports, they're said to be engaging in a "beggar thy neighbor," or a "race to the bottom" (who can lower their currency further and faster), strategy to maintain export revenue.
Not only has that been happening, it's going to get a lot worse as exports everywhere are falling.
The Internal Monetary Fund recently noted that the 2015 year-over-year change in global exports was the second lowest it's seen since 1958.
The smallest change was in 2008-2009.
As "currency wars" heat up in Asia, South America, and elsewhere, the U.S. dollar remains strong, and on a relative currency basis, it is getting more expensive.
That means the Chinese, emerging markets, and other global debtors - all of them exporters, who grew their economies and export businesses by funding growth with trillions in dollar-denominated loans - are going to see the cost of their debt skyrocket.
The only way they can pay it off is to export more to generate revenue.
It's that "negative feedback loop" that's going to cause major devaluations in currencies, debt defaults, and bankruptcies worldwide. At the same time, U.S. multinationals who get increasingly larger revenue streams from overseas will see that revenue decimated when they have to translate earnings in foreign currencies back into U.S. dollars.
Stock markets see this. Earnings are going to get hit, and for some companies, they'll collapse.
Between faltering industrial production in the United States and across the globe, retrenching consumers here and elsewhere when layoffs will be announced in the first quarter and all year, and stock market investors selling on account of rapidly diminishing earnings in the face of escalating currency wars, the warning lights couldn't be any brighter.
Economists at Citigroup Inc. (NYSE: C) said last week the risk of a global recession was rising.
Morgan Stanley (NYSE: MS) puts the probability of the U.S. entering a recession at 20%.
And Bank of America Merrill Lynch said on Friday the likelihood of the world's largest economy entering a recession in the coming year has risen to 20% from 15%.
So, I'm not the only one who sees the U.S. facing a recession.
But... I am the only voice predicting a serious and lengthy global recession will push the United States into that black hole with almost everyone else.
Follow Shah on Facebook and Twitter.
Shah's looking at another "easy money" setup like the one he found for his readers in 2015. This calls for the same simple trading technique that one of the world's greatest traders used to make the "easiest" $80 million ever. In fact, this setup made another famous investor as much as $1 billion... in a single day. It's been making people rich for 87 years, and with all the volatility in the markets today, it's become even more effective, with dozens of opportunities for one-day windfall profits. Click here to find out how you can make this trade every day...
Here Are 10 "One-Click" Ways to Earn 10% or Better on Your Money Every Quarter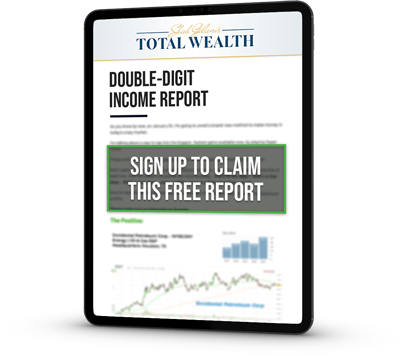 Appreciation is great, but it's possible to get even more out of the shares you own. A lot more: you can easily beat inflation and collect regular income to spare. There are no complicated trades to put on, no high-level options clearances necessary. In fact, you can do this with a couple of mouse clicks – passive income redefined. Click here for the report…
About the Author
Shah Gilani boasts a financial pedigree unlike any other. He ran his first hedge fund in 1982 from his seat on the floor of the Chicago Board of Options Exchange. When options on the Standard & Poor's 100 began trading on March 11, 1983, Shah worked in "the pit" as a market maker.
The work he did laid the foundation for what would later become the VIX - to this day one of the most widely used indicators worldwide. After leaving Chicago to run the futures and options division of the British banking giant Lloyd's TSB, Shah moved up to Roosevelt & Cross Inc., an old-line New York boutique firm. There he originated and ran a packaged fixed-income trading desk, and established that company's "listed" and OTC trading desks.
Shah founded a second hedge fund in 1999, which he ran until 2003.
Shah's vast network of contacts includes the biggest players on Wall Street and in international finance. These contacts give him the real story - when others only get what the investment banks want them to see.
Today, as editor of Hyperdrive Portfolio, Shah presents his legion of subscribers with massive profit opportunities that result from paradigm shifts in the way we work, play, and live.
Shah is a frequent guest on CNBC, Forbes, and MarketWatch, and you can catch him every week on Fox Business's Varney & Co.