It's true there are new buyout rumors about Yahoo! Inc. (Nasdaq: YHOO), but the rumors aren't making the YHOO stock price climb today (Monday).
Verizon Communications Inc. (NYSE: VZ) CEO Lowell McAdam spoke with Jim Cramer on Feb. 5, stating that merging some of Yahoo's assets with AOL would be a good move. Verizon purchased AOL in May 2015, which is part of McAdam's three-tier plan of owning platforms that drive traffic to its network.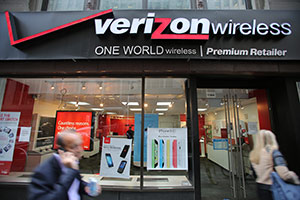 But investors aren't impressed, and the Yahoo stock price is down 4.65% in intraday trading today.
Some investors view the dropping price as a cheap entry point, but Yahoo stock is not a good investment to make in this bear market. I'll explain why shortly, but I want to make sure Money Morning readers know exactly why the YHOO stock price has plummeted 37.77% in the last 12 months.
Activists and retail shareholders alike believe the issues with Yahoo start with CEO Marissa Mayer.
In a 99-page presentation sent to Yahoo's board members in December, SpringOwl fund manager Eric Jackson documented Mayer's questionable decisions, which included:
Spending $450 million on food for employees over a four-year period
Spending $2 million to give employees a fitness band from JawBone (she is a board member for the company)
Spending $7 million for a holiday party in December 2015
And aside from spending millions on employee perks, Mayer's $3 billion spent on mergers and acquisitions is an even bigger sore spot for shareholders.
Yahoo purchased Tumblr for $1.1 billion in 2013. But Mayer has been secretive on how the social media site is performing in terms of revenue. Yahoo finally shared in its 2015 Q4 earnings report that Tumblr wasn't as valuable as Mayer had previously estimated.
Yahoo had to write off $4.5 billion in losses in Q4, and $230 million of that was through Tumblr.
Sign up for SMS so you never miss special events, exclusive offers, and weekly bonus trades.
Mayer hasn't provided any reason for shareholders to feel confident in the company's performance in 2016. And there's another big reason why YHOO stock is not a great investment right now.
Plus, we've found another stock that is a much better investment for 2016...
YHOO Stock Is Risky - Invest Here Instead
The Nasdaq is down 17.96% over the last three months, and the S&P 500 is down 11.73%, which means investors shouldn't be speculative.
Volatile oil prices, the slowing of the Chinese economy, and concerns over the health of the American economy are all contributing to the recent sell-off in stocks. Yahoo stock is underperforming on its own, and it's even riskier to own when the market is bearish.
Yahoo's only value right now would come from a spin-off of its shares in Alibaba Group Holding Ltd. (NYSE: BABA) or selling its Internet business. But the spin-off means that Yahoo could incur as much as $9 billion in taxes. Besides, there's little reason to believe Mayer would improve shareholder value with the proceeds from BABA.
And despite Verizon's apparent interest, there is no guarantee that a company will acquire Yahoo.
If there are no acquisition offers, shareholders will be left with Mayer controlling the fate of Yahoo's Internet business - something she has proven inept at doing thus far in her more than three-year tenure as CEO.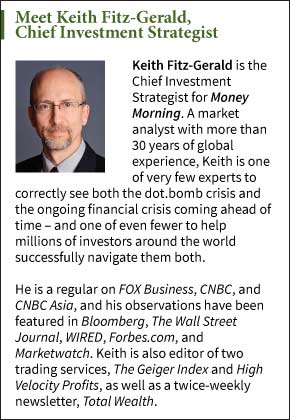 So while we don't recommend investing in YHOO stock right now, Money Morning Chief Investment Strategist Keith Fitz-Gerald believes you should be on the offense when the stock market plunges.
"There's always opportunity in chaos and current market conditions are no exception," Fitz-Gerald told investors in mid-January. "Focus on quality stocks selling products and services the world cannot live without."
Fitz-Gerald believes that one of those quality stocks is defense contractor Raytheon Co. (NYSE: RTN). Because Raytheon is a core manufacturer in weapons and military electronics, its products will always be in demand.
"Stocks like these are investments, not speculation," Fitz-Gerald stated. "They may fall a bit with the broader markets, but the markets have a terrific upward bias over the long term."
Raytheon signed a $1 billion cybersecurity contract with the U.S. Department of Homeland Security in December. The contract is for five years and some orders could be extended for up to two years after the contract expires.
Over the last six months, RTN is up 15.18%, while the Dow and S&P 500 are down 8.96% and 11.90%, respectively. YHOO is down 26.71% during that time.
It's clear that YHOO stock is too speculative to own and should be avoided, but it's also important to identify the right opportunities in a bear market.
That's why Fitz-Gerald has a special opportunity available right now...
Opportunity Alert: It's true that you would have to be a fortune teller to know exactly when a bear market would start and end. But fortune telling isn't Chief Investment Strategist Keith Fitz-Gerald's profession. His goal is to protect your wealth, maximize gains, and help you focus on what's really going on in the market. In his Money Map Report, this financial guru has used his years of experience as a trader in one of Wall Street's leading firms to help his readers find 86 double- and triple-digit winners. You can learn more about Keith's Money Map Report here...
Jack Delaney is an associate editor for Money Morning. You can follow him on Twitter and follow Money Morning on Facebook.